Alejandra Alonso Rojas helms one of the most buzz-worthy brands in the fashion industry. The Spanish designer burst onto the New York fashion scene in the fall with her eponymous spring collection. Women's Wear Daily described her designs as "flawlessly executed." Vogue.com named her collection as one of the top five new designers on its radar. In January, she scooped up Fashion Group International's Rising Star award for women's wear.
"It was so unexpected," says Rojas over the phone from her New York office. "People really got the brand and loved the quality. It gave me a real kick of energy for next season." She describes her ideal client as "sophisticated but nonchalant at the same time. My pieces are timeless and ageless."
Her Spanish heritage is at the heart of her collection. The women in Rojas's family have been knitting and crocheting for generations. Leather, suede, hand knits, custom prints and fine tailoring have become her signature.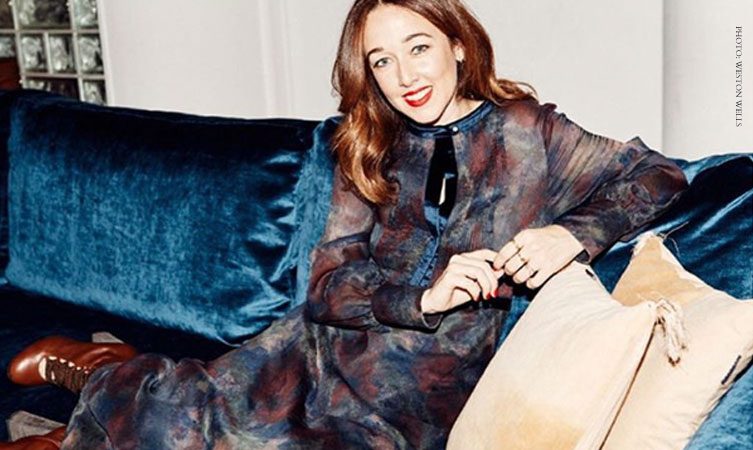 Jewelry is also part of her family's tradition. Her grandfather, a jewelry maker, designed the ring that Rojas wears every day, an heirloom passed down from her grandmother. "The stone is alexandrite, a very rare stone found in Russia. It's purple when you're inside and turns green when you're outside. It's very, very special to me," she says. Other favorites include her yellow diamond engagement ring, her wedding band and her first purchase, a rose gold ring made by a cousin. "Every piece of jewelry – what I get as presents or buy – I love to wear it. I hate it when it sits in the box," she says.
Here, Rojas walks us through her spring/summer collection and styles her designs with pieces from Memo.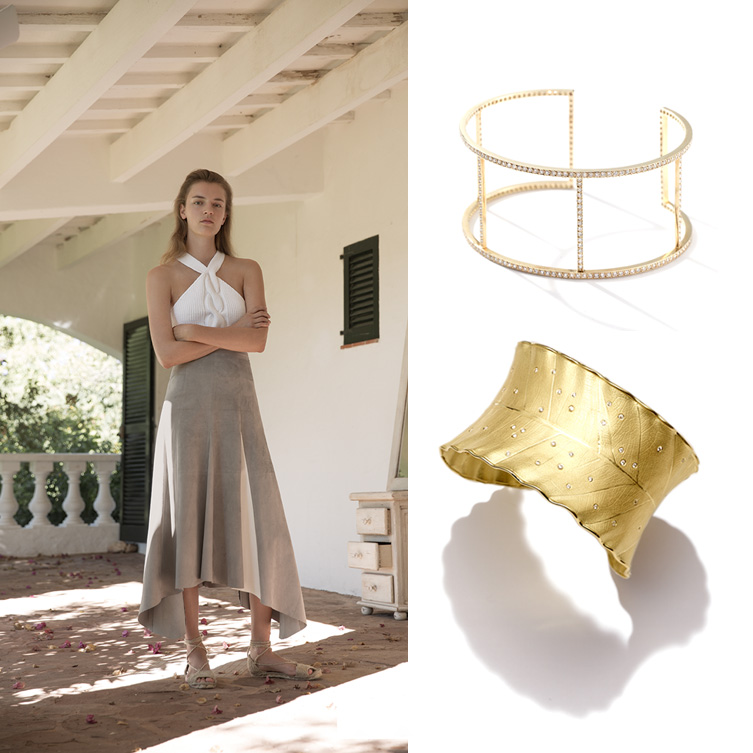 Natalia Halter Top & Patrica Godets Skirt paired with Ileana Makri's Cage Wire Cuff and Barbara Heinrich's Leaf Cuff
"Wearing a couple of bracelets in different patterns and sizes is a good way to add visual interest to your outfit. For this particular look, I've picked my two favorites: The Cage Wire Cuff from Ileana Makri and the Leaf Cuff from Barbara Heinrich, both in yellow gold with diamonds."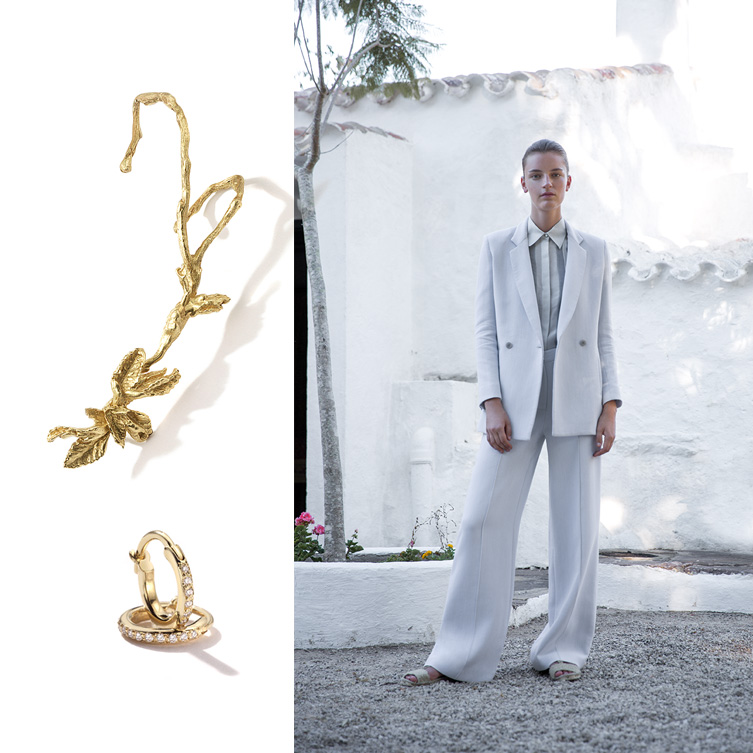 Isabel Double Breasted Jacket & Pilar Wide Leg Pant paired with Ileana Makri's Mini Diamond Thread Hoops and Judi Powers' A Tree Grows in Brooklyn Ear Climber
"I love to combine and mix and match different earrings. These Ileana Makri Mini Diamond Thread Hoops are my favorite. In this case, I would choose the yellow gold style and wear them both on my left ear. On the right side I would wear the "A Tree Grows in Brooklyn" ear climber from Judi Powers. The three pieces combined together elevate this full suit look, making it more feminine."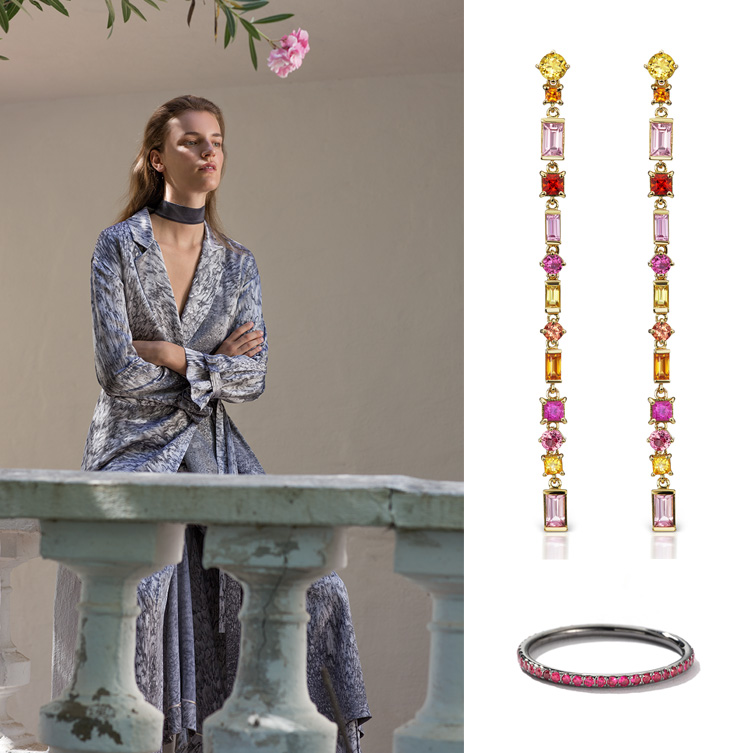 Monica Trench Coat paired with Jane Taylor's Long Cirque Aerial Silk Earrings and Ileana Makri's Ruby Thread Band
"This hand-painted silk trench/dress is one of my favorite pieces from the collection. I love the idea of adding the Long Cirque Aerial Silk Earrings earrings from Jane Taylor to complete the look. The yellow beryl, pink tourmaline, mandarin garnet, and orange, pink and malva sapphire are the perfect shades to pair with the grey silk and will illuminate the face with the light reflections. For the hands, I am in love with the Ruby Thread Band from Ileana Makri– it's so minimal and sophisticated."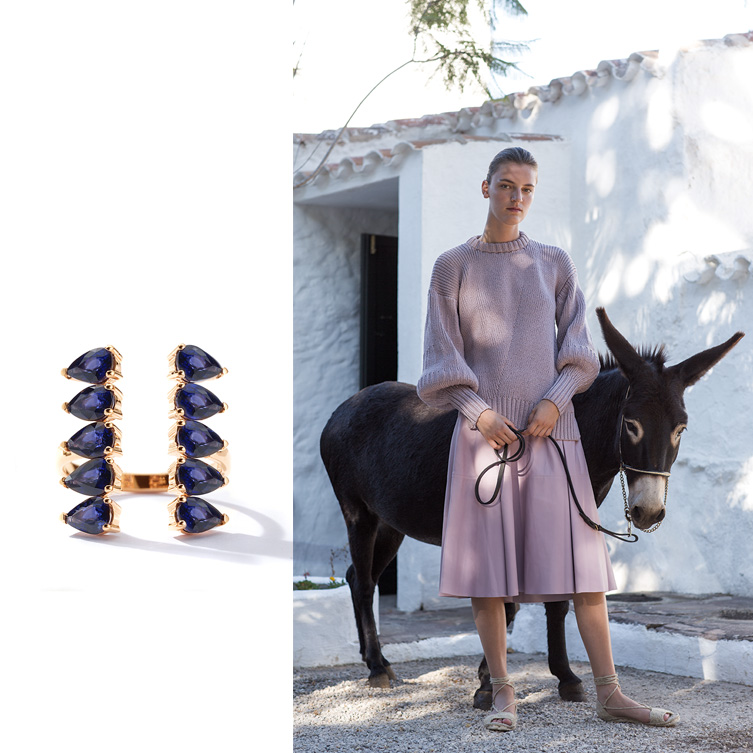 Alicia Sweater & Sofia Flared Midi Skirt paired with Ileana Makri's Deco Pear Column Ring
"I would wear this Deco Pear Colum Ring from Ileana Makri on my middle or index finger to make a sophisticated statement with this outfit. The iolite gems in dark purple, almost navy, together with the rose gold work perfectly with the malva pieces. Also, the open spaces and shapes of the gems work seamlessly with the hand-knit stitches in this sweater."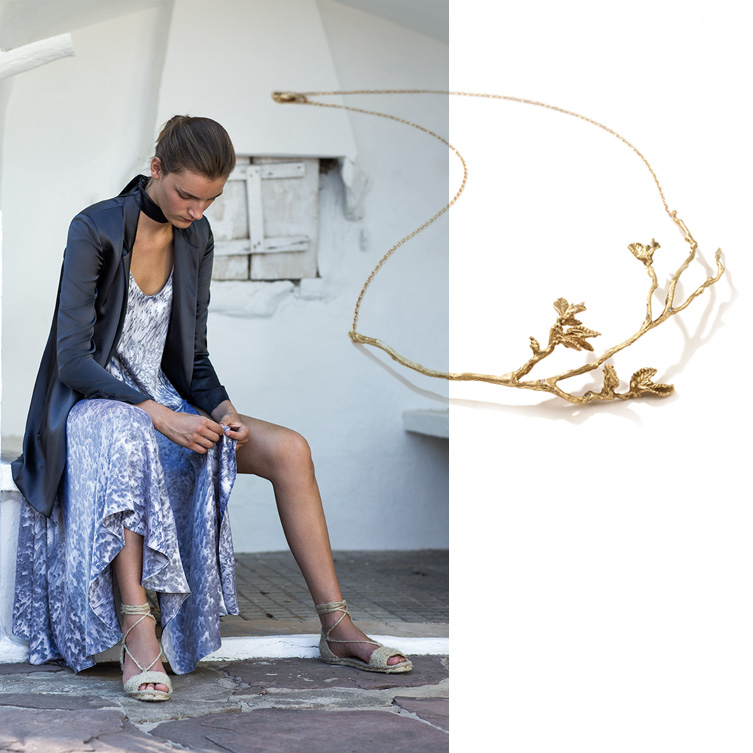 Isabel Double Breasted Jacket & Alejandra Drop Waist Dress paired with Judi Powers' A Tree Grows in Brooklyn Necklace
"I would love to wear "A Tree Grows in Brooklyn Necklace" from Judi Powers with this outfit. The organic and delicate lines of the gold tree flows beautifully with the hand-painted silk."