A hidden treasure from an austere yet magical destination nestled on the Pacific coast between San Francisco and Santa Barbara, Big Sur Goldsmith produces one-of-a-kind fine jewelry pieces infused with a rich family legacy that began with the creativity, inventiveness, and skill of patriarch Karl Lee.
Karl first developed his passion and skill for metalsmithing at The Esalen Institute in the 1960s.  By the 1970s he had perfected his skills in casting and hand fabrication, mixing metals, 22K gold, platinum and silver in unique ways. In the 1980s, Karl's son Aurthur started apprenticing under his father and daughter-in-law Carrie Armstrong soon followed, eventually contributing their own vision and point of view to the pieces. Here, they share more about the origins of their family business and what makes it so unique.
We've heard that there's a certain magic to visiting Big Sur Goldsmith in Big Sur, CA. What do you attribute that to?  
My father hitchhiked to Big Sur from Los Angeles when he was 17. He lived at Esalen and made pottery and painted until finding his Partington Ridge studio, which was previously owned by Henry Miller (he later moved to an adjacent property with a nicer house). Here, my dad began making jewelry. We have always worked from a home studio and sold our work in art galleries.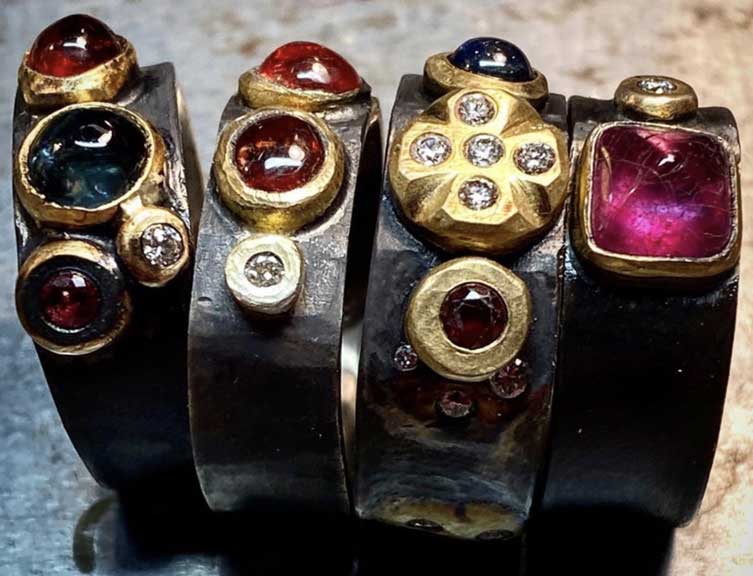 Big Sur Goldsmith Artifact Rings 
We'd love to hear more about what it's like to grow up in Big Sur. Can you describe it? How does your environment inform your designs?
Growing up in Big Sur was truly unique, especially in the 80s. Perched above the ocean, Big Sur is two hours from the nearest town and surrounded by mountains covered in oak trees and redwoods. We were visited by Tibetan Rinpoches, Japanese sword teachers, Hollywood actors and producers, and peace activists. It was a truly unique setting and time. It certainly inspired an irreverence for rules, like the ones I learned during my traditional European style jewelry apprenticeship.

Tell us a little bit about your father's passion for metalsmithing. How did he originally develop his craft and ultimately a business?
My father was a Renaissance man. He was a master painter, potter, metal fabricator, distiller of essential oils, sculptor – really anything that he tried. He was an old school savant and found his living as a jeweler; these things happen, and we don't know why? His work was always distinctive and singular. Over the years he developed a loyal following of regular collectors and always new fans. Years after his passing, I still regularly receive emails or run into people wearing his distinctive work. Most of his paintings were in a private collection, which burned in a Beverly Hills house fire some years ago, but the jewelry remains.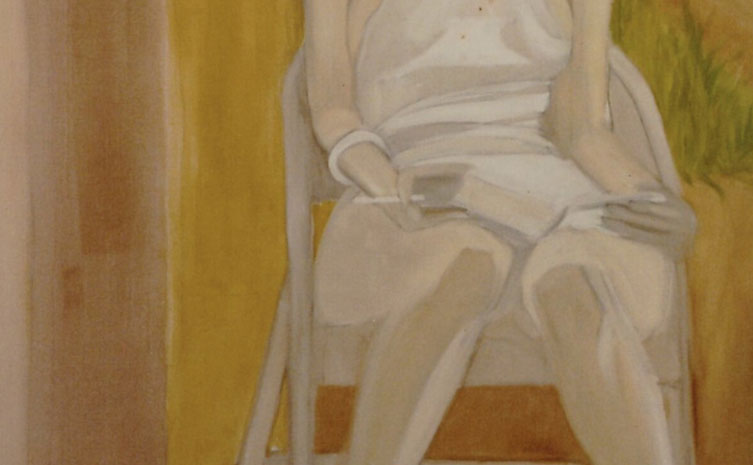 What was unique about your father's approach to metalsmithing?
My father had two main principles: The Golden Mean and that a woman should never catch her hair or clothing on the jewelry – that it should meld with the body and not be obtrusive. This extended to a ring shape that is not round, as the human finger certainly isn't round.
What was it like to apprentice with your father in the late 1990s?
I always had a bench in my father's studio, and from an early age I began playing with silver and tools. As soon as I was able, I began helping him sand stones in the lapidary process and buffing and polishing his jewelry, the grunt work. My formal apprenticeship came later with an European-trained Armenian Jeweler in Carmel by the Sea by the name of Kirkor Kocek.
Can you tell us a little bit about the traditional, old-world methods in hand fabrication that you're still using to make jewelry today?
We do everything the old way, creating our own alloys and hand fabricating every part of our work. We do not cast and do not buy premade findings. I have always marveled at the mastery of the ancients like Chellini. How did they do so much with so little? While I can't parallel their mastery, I do enjoy the Old World process and using house-made high-karat alloys and the old ways to create unique pieces that don't seem machine made but are clearly handmade to the eye and the finger.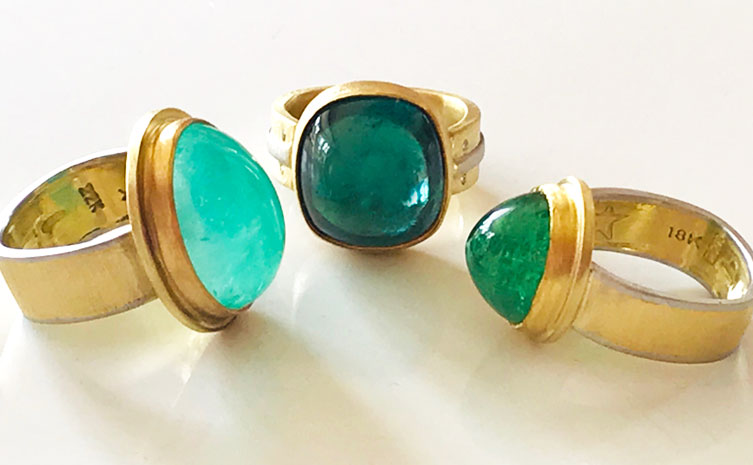 The Columbian Emerald Ring, Sugarloaf Indicolite Ring, and Green Tsavorite Garnet Ring.
What are some other ways that you keep the family tradition alive in your business?
We still use my father's old bench and original tools (with some additions, of course). Carrie (CAD) works at my father's old time-worn bench, and I work at the same bench that he had assembled beside his workspace, so I could play near him when I was young. Very little has changed, and we even carry on the 40+ year tradition of a loyal Australian shepherd shop dog sleeping at our feet.
What can you tell us about your father's gemstone collection, and how do you select the stones to include in your finished pieces?
We traveled to gem shows all throughout my life. My father was a very skilled stone cutter of both cabochons and faceted stones, and many of these stones are still sitting and waiting to be set. I try to honor the stones that he collected as best as I am able, and when I see a stone that I think he would have liked, I can't resist adding it to the collection.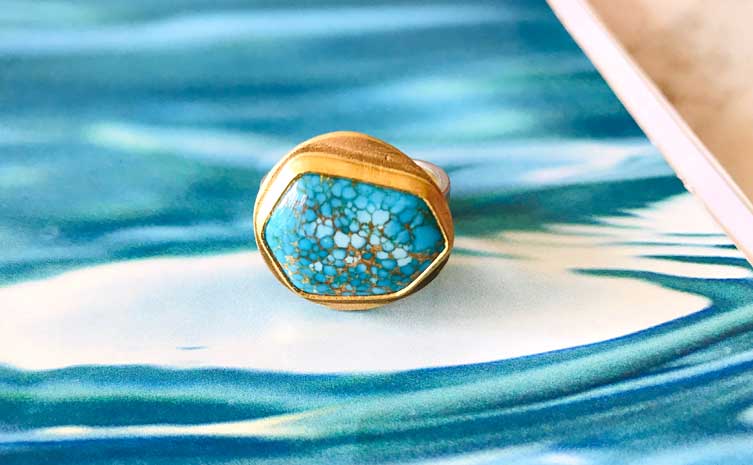 The No. 8 Turquoise ring set in 22K gold on a platinum band.
We understand that you receive a number of requests for custom pieces from clients. Can you tell us a bit more about the types of custom pieces you're creating right now?
I have been inundated by requests for custom work since I ventured into the modern world of Instagram and a website. Many have come from collectors of my father's work, but others are from customers who see something they like but want it custom-made in their particular size or with a particular stone. Currently I'm fabricating a mounting in 22K gold for a 26 carat No.8 Turquoise stone, which my father collected and cut more than 20 years ago.
What is your vision for your collection? How do you see it evolving and growing in the future?
I must admit I'm more spontaneous and let the inspiration or the "Neters", as the Egyptian's put it, visit. This is how my dad liked to explain his creative process, and I think that was contagious.