Gisa Golpira launched her namesake jewelry brand "Golpira" in 2014, after leaving behind a career as a fashion buyer and reconnecting with her roots. Gisa's mother was a gold diver in Peru, so the designer grew up in one of the most beautiful rainforests in the world. A small gold nugget pendant that Gisa's mother had given her as a precious talisman served as the ultimate inspiration for her jewelry line, which celebrates and honors the beauty of gold nuggets – a rare natural resource with inherent beauty that requires no intervention.
Golpira is committed to offering completely sustainable fine jewelry that will withstand the test of time. Golpira gold nuggets are certified fairmined ecological gold coming from Papua New Guinea and Australia. Continue reading to learn more about the designer's captivating story.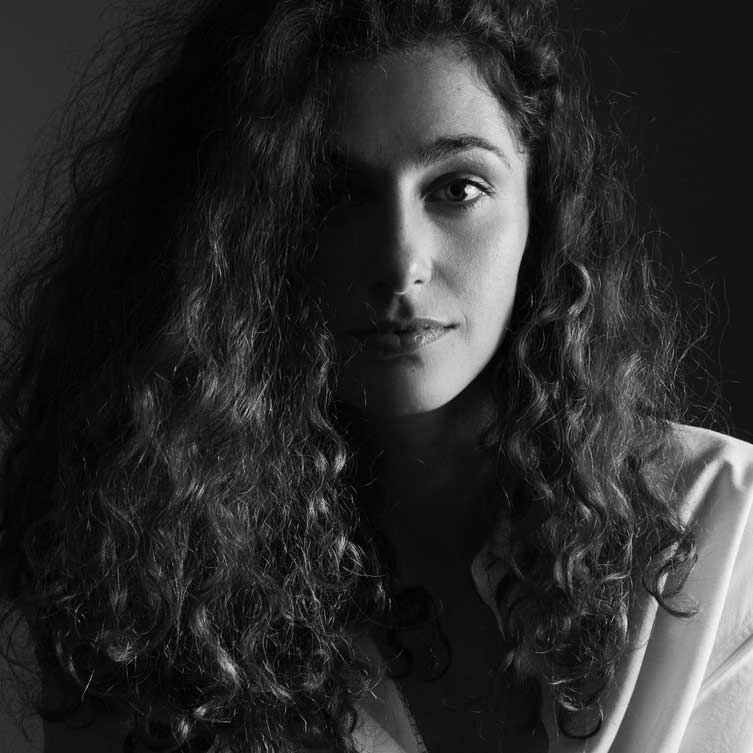 What was it like growing up in the Peruvian rainforest with your mother working as a gold diver? It sounds magical!
It was magical, indeed. My mother took me on an expedition to the Peruvian rainforest when I was a child, so I spent part of my childhood deep in the heart of one of the most beautiful rainforests. It felt like we were at the end of the world. There were no roads, no electricity, no tap water, no supermarkets, not even a house.
The rainforest seemed like a huge playground. I tried to figure out how to have fun with what was at hand, be it sticks, stones, dirt, or whatever I could find. I spent my life outdoors, climbing trees, playing with wild animals, learning to fish, collecting fruits, swimming, or hiking. A good birthday present was a can of Coke.
I'll never forget the sound of the rainforest: the high-pitched screech of a million bugs, which were sometimes so loud during the day, you had to raise your voice to be heard. At night, the crickets and frogs could keep you awake with their squeals and croaking.
A brilliant night was spent listening to my mother reading a book by the fireplace. When you strip away all the modern conveniences, you get closer to the heart of life, and it's more pure. The joys are less cluttered, there are fewer distractions, and experiences are so much more poignant because of their unique intensity.
For indigenous people, the rainforest is a spiritual place where you form relationships, not only with each other but also with trees, stones, water, animals, and every other kind of species. I've learned to love and respect nature. That's why I felt clear about building a sustainable jewelry brand right from the beginning in 2013.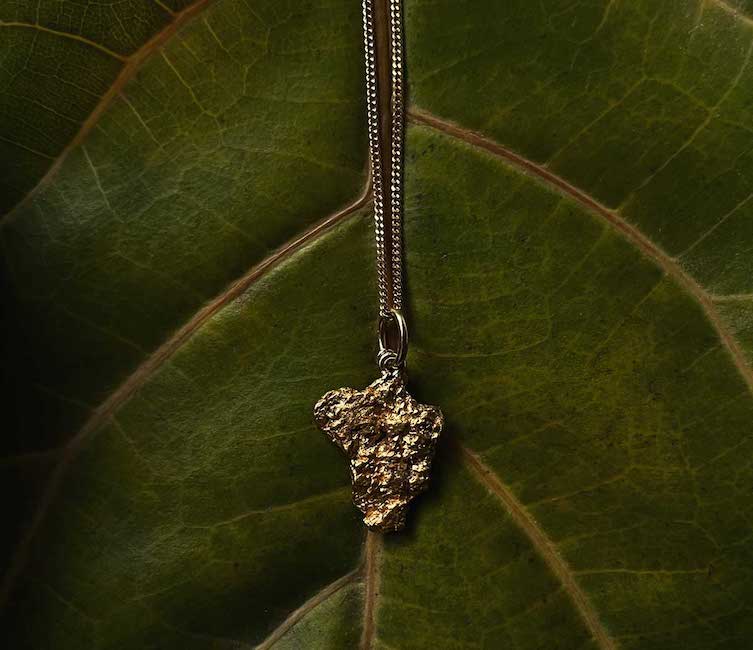 When did you decide you wanted to become a jewelry designer and why? Can you recall the moment?

Honestly I first wanted to become a fashion buyer for concept or department stores. That was the plan. After working as a buyer, I realized I wasn't following my heart. So I quit my job and had absolutely no idea what to do next until I explained my decision to my mother.
I told her that many people had been asking about my gold nugget necklace, which my mother had gifted to me as a talisman, and I had been wearing since leaving the rainforest. I continued telling her that people in the fashion industry are obsessed with my mother's adventurous story and love the idea of a one-of-a-kind gold nugget jewelry piece. I couldn't convince her to start a jewelry business, but instead she convinced me to try it.
Why are gold nuggets so rare to find today, and what makes these nuggets so special?
Gold is one of the most popular and well-known minerals on earth. According to the World Gold Council (WGC), more than 200.000 tonnes of gold have been mined throughout history. But less than 2% of gold in its natural form comes as gold nuggets.
Gold nuggets are naturally-occurring pieces of gold formed through erosion, so each nugget is uniquely formed, and no two are alike. Usually they contain 75 to 97% gold, and the remainder is mostly silver, copper, or occasionally quartz inclusions.
I value and appreciate the beauty and rarity of gold nuggets. Golpira uses the most exclusive, highest-quality gold nuggets from Papua, New Guinea, Australia and/or South America. Each gold nugget is hand selected for its unique, individual characteristics and natural beauty. They have a very high purity, will be clean and shiny, and will have a consistently gorgeous overall appearance, with a striking color and surface texture.
We don't manipulate the gold nuggets for our jewelry pieces, so we don't hammer, shape, or even polish them. We leave them in their original shape, just as the gold panners found them. By the way, it's more rare to find a one-ounce (around 31 grams) gold nugget than it is to find a five-carat diamond.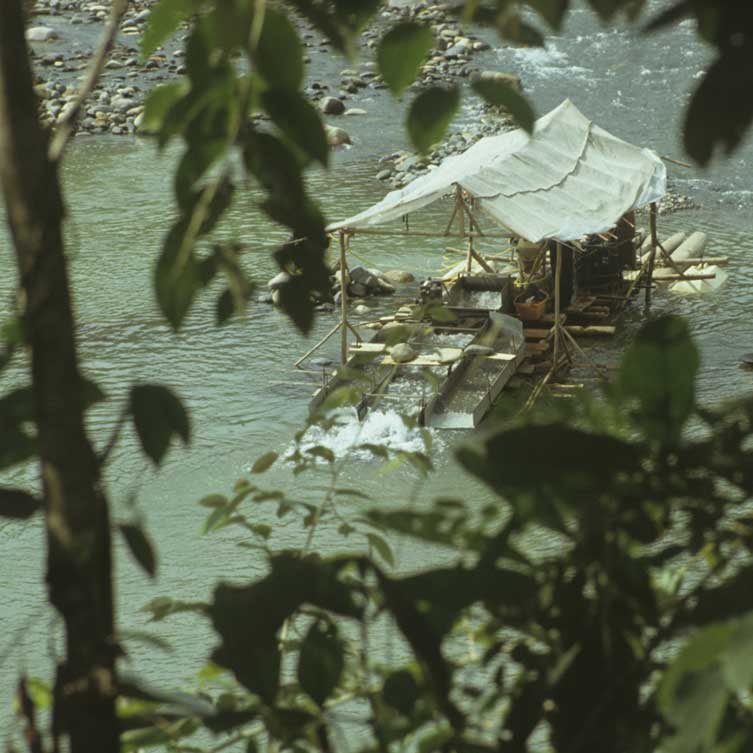 What's unique about the gold you use to create your jewelry pieces? How is it different from gold used in other fine jewelry in the marketplace?
The topic of sustainability is very important to me. We maintain a supply chain that respects the planet, as well as each person involved with our company. Golpira is committed to ethically sourcing each element of our products. To keep our supply chain as sustainable as possible, we ensure our suppliers take social and environmental standards seriously. We only source from suppliers who meet our core values. The miners get a guaranteed fair price, plus an additional premium to cover the costs of certification and for investing in responsible mining operations, social development, and environmental protection. Child labor is forbidden. No chemicals like cyanid or mercury are used to extract the gold; only gravimetric methods are allowed.
Golpira uses fair-mined ecological gold nuggets, 100% recycled fine gold certified by Responsible Jewelry Council (RJC), and conflict-free diamonds certified by the Kimberley Process.
What do you find most beautiful and interesting about gold nuggets? What about them inspires you and is there a story that you hope carries through to the wearer?
As I have mentioned, I value and appreciate the beauty and rarity of gold nuggets. Each gold nugget looks different in shape and structure.The beauty lies in the imperfection. For me a gold nugget is truly a desirable object of mother nature. When I think about a gold nugget being more than a million years old, I get goosebumps.
Jewelry holds great emotional worth, and there's likely a sentimental or emotional reason why someone wears a particular object. In my case I wear my gold nugget necklace, gifted by my mother. This gold nugget necklace was not only the inspiration for my jewelry line, but it also always reminds me to stay open minded, adventurous, and unique.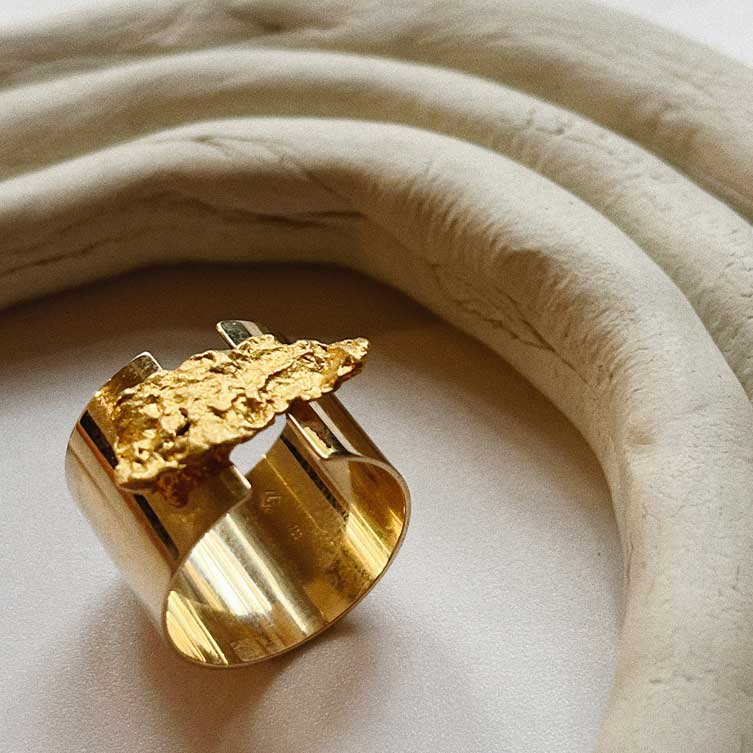 Can you please tell us about your book? What inspired you to write it, and what can readers expect to find in it?
I feel so lucky that I could realize a project together with my mother. We wrote a book about the time we spent together in the rainforest, about motherhood in the rainforest, about the adventures we were able to share, and how I ended up becoming a jewelry designer. You can find the book here. Unfortunately it's only available in the German language. Sorry, my English-speaking friends!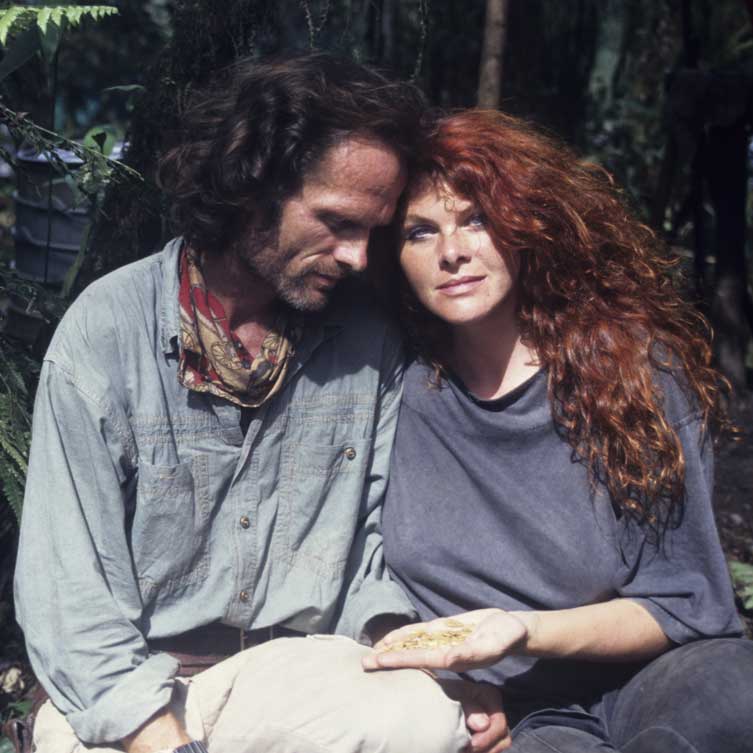 How would you like to see the collection evolve in the future? Is there anything you can share with respect to future collections?
Less is more. I really don't know who said that first, but the phrase describes my clean design work quite well. The gold nugget itself is such a beautiful piece. I feel like I only need to put it in a modern context, and that's it. For me, timeless design will always be a priority. I love the idea that a jewelry piece gets passed to the next generation and carries the stories and emotions connected to our ancestors. I make each piece with the idea that it should be a timeless future heirloom to be cherished always, no matter how far into the future it's worn.
I don't want to reveal too much, but I would love to combine gold nuggets with emeralds that mirror the rainforest in my designs.
View Gisa Golpira's collection here.