New York designer Dana Bronfman has always handcrafted her pieces from reclaimed 18K gold, post-consumer diamonds, and ethically sourced gemstones. But in her latest Desert Glow collection, she has taken her commitment to sustainable materials a step further by incorporating fairmined gold, which creates job opportunities for artisanal miners all over the world and benefits their local communities. Dana recently shared more about her latest collection and why supporting fairmined gold is so important for humanity and the environment.
What was the inspiration for your latest collection?
My latest collection, called Desert Glow, draws inspiration from my love for the desert landscape. The colors shown throughout the collection pay homage to the many ways the desert glows through its different phases of the day and night. The goddess of the desert was my muse for this collection. I see her embodied through quietly bold, unapologetically one-of-a-kind women, whose genuine and enigmatic glow also light up the day or night.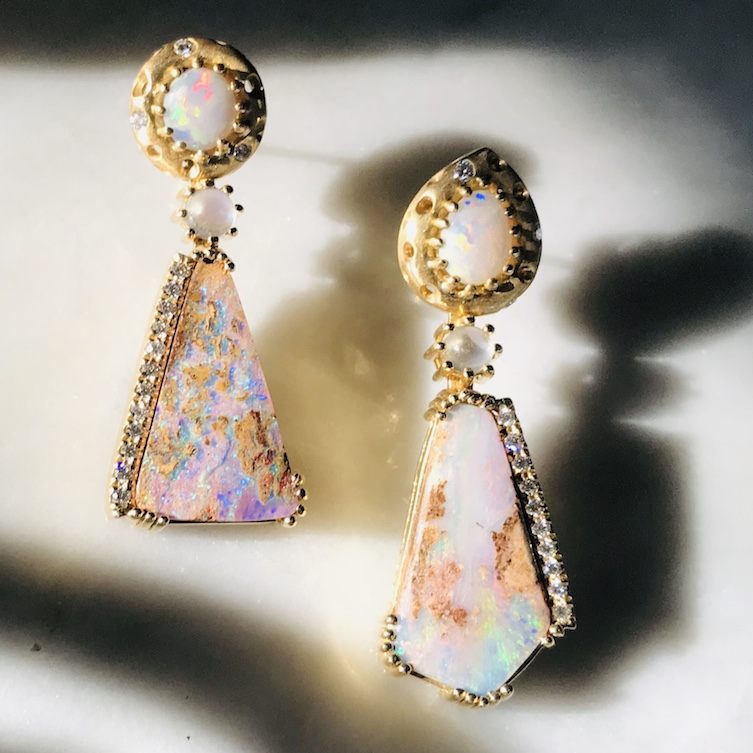 The Desert Goddess Earrings from the Desert Glow collection feature 18K fairmined gold, opals, moonstone and diamonds.
What are some of the highlights of this collection?
Muzo emeralds, Australian opal, moonstone, rutilated quartz, green sapphire, spessartite garnet, pink tourmaline, and VVS diamond accents are all highlights. Each gem's kaleidoscope of color glows naturally with one-of-a-kind inclusion patterns, which allow each piece to tell a unique story that could never be replicated.
Yellow gold with matte and hammered finishes are reminiscent of the expansive dunes of Wadi Rum, the emeralds and purplish opals are meant to capture the natural beauty of Arizona cacti and their flowers, fiery colors express the daytime heat and sunsets that burn a special kind of bright in Santa Fe. Moonstone, oxidized metal, and diamonds express the glow and twinkle of stars against the spacious night sky.
You'll also notice my signature oculus throughout the collection. The circular cutouts of open space allows the natural light to shine through and appear playfully on the backs, sides, and front of the jewels to add another dimension to the pieces and compliment the multidimensional women who wear my jewelry.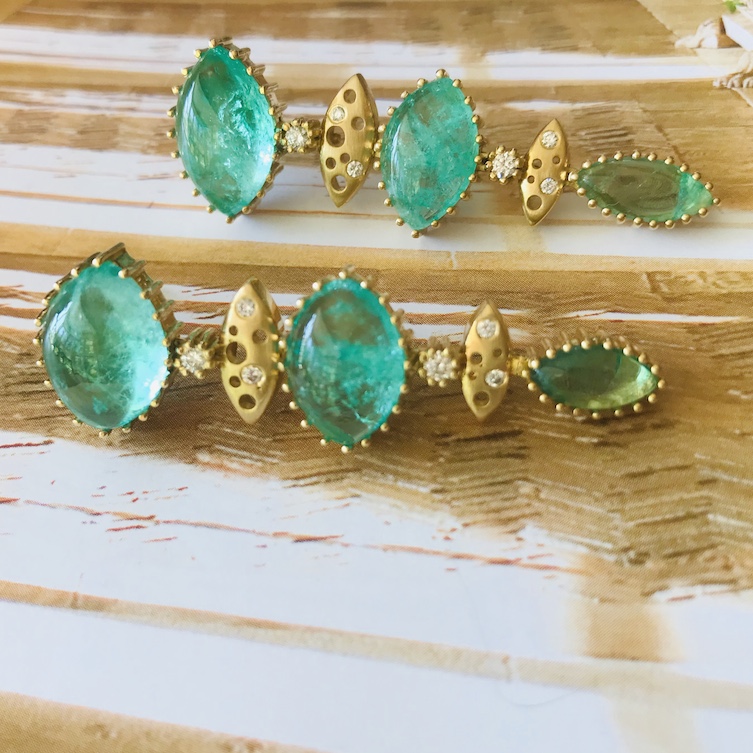 The East-West Marquise Muzo Emerald & Oculus Tiered Drop Earrings featuring 18K fairmined gold.
What inspired you to incorporate fairmined gold in your new collection?
I created my signature collection in recycled gold, but I feel it's necessary to also support fairmined gold, which gives jobs to artisanal miners and helps them contribute to their communities. Thanks to the safe working conditions, living wage, health benefits, and positive economic impact, the entire community benefits.
Using fairmined gold as a designer allows me as well as my customers to support miners and to improve a far-away community. We're helping to grow a mining industry that's sustainable for the people involved and the environment. Gold will continue being mined, but this way is much less toxic to the miners and the planet.
What are the best ways to support fairmined gold?
The best way to support fairmined gold is to do business with jewelers who work with it. If you purchase from jewelers who do not work with fairmined gold, please let them know that you would like them to use fairmined gold, and that you would be willing to pay the small premium price increase, which is a great investment in the future of our planet and our human race. This means writing to jewelry brands you love or talking to the staff at your local jeweler.
In this changing retail economy, many retailers are fearful they will not be able to sell fairmined gold jewelry due to its higher price, while others simply have never heard of it. If you own jewelry using fairmined gold, tell your friends, loved ones and strangers who compliment your pieces about what fairmined gold means and why your piece is not only beautiful on the outside but has a beautiful story tied to its source.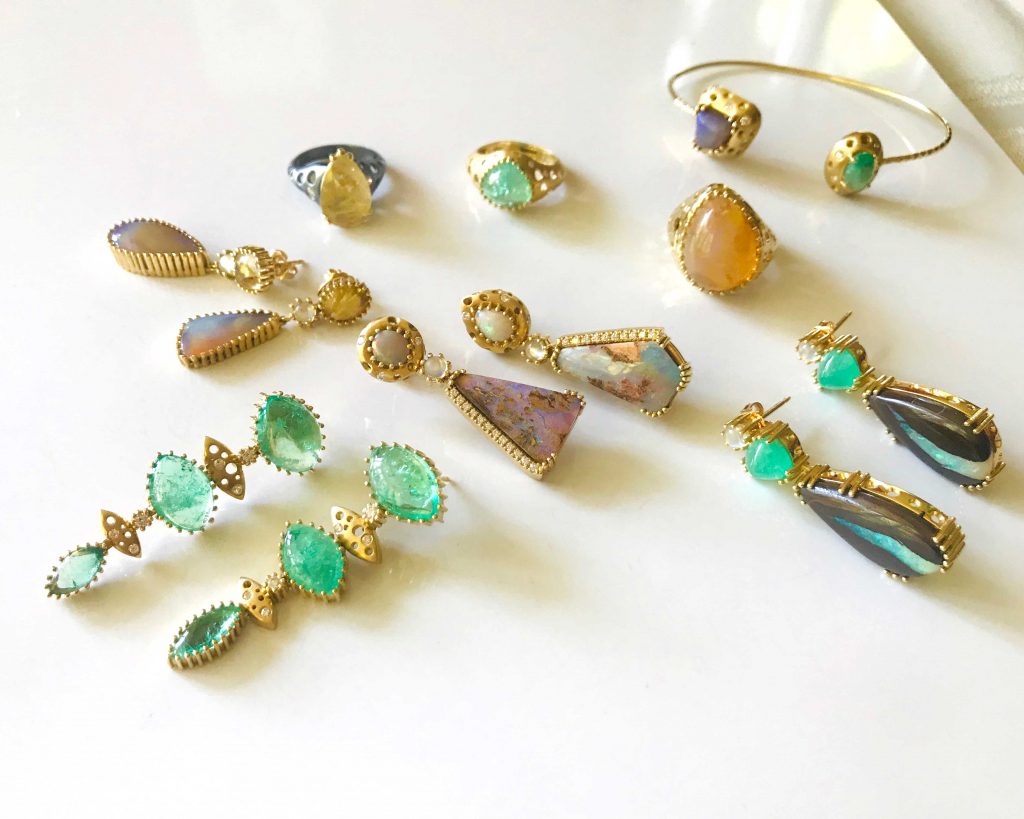 Why will buying fairmined gold continue to be important in the future?
It is more important than ever before to support fairmined gold. Artisanal mining is the number one source of mercury pollution in the environment, which wreaks havoc on people's health as well as our ecosystems, so it's important to support mining that promotes protection from toxic chemicals, safe and proper disposal of chemicals, or – in best-case scenarios – avoidance of toxic chemical use. A piece of jewelry can only be as beautiful as its origins.