Loren Nicole first became interested in metalsmithing while working as an archaeologist on digs in Central and South America, researching ancient civilizations of northern Peru. After serving as a conservator for ancient and ethnographic textiles of the Americas, Oceana and Africa Collections at the Metropolitan Museum of Art in New York City, she intended to pursue her PhD, but metalsmithing led her in a different direction. After taking classes in metalsmithing to better understand the objects she encountered in her work as a conservator, Loren began to fall in love with creating jewelry out of high-karat gold and learning to use ancient techniques like granulation. In her current work, she exclusively uses 22K gold, which is warm and lively but also soft enough to take on the unique story of the person who wears it. Her upcoming collection, due this summer, will be influenced by ancient Egyptian jewelry.
What was the moment that made you think, I can try metalsmithing myself? Did something encourage you? Did you seek out instruction? 
It started from a young age. I was very crafty. In college, I used to sell beaded jewelry at the farmers market just for fun. I have that natural curiosity, and I've worked with a lot of different crafts. I know how to weave and throw pottery and have done a little bit of glass blowing. So it wasn't out of character to take a class.
I guess it really happened while I was working as a conservator, and I was just becoming more curious about metals and how metals are made. That really drove me to seek out classes. Because I was mostly working with ancient objects, I started specifically looking for people who were teaching ancient metalsmithing. I really got into granulation, which is a technique that's been used for four thousand years. The Etruscans are the most famous for it. In modern-day Indian and Southeast Asian jewelry, you can still see a lot of granulation, but it's really something that's kind of forgotten. 
It was all very natural. It spoke to me. I picked up the skills quickly, and it was a way to share my love of archaeology. It became a creative outlet for me, the perfect marriage of everything I studied, and I had a natural aptitude for it.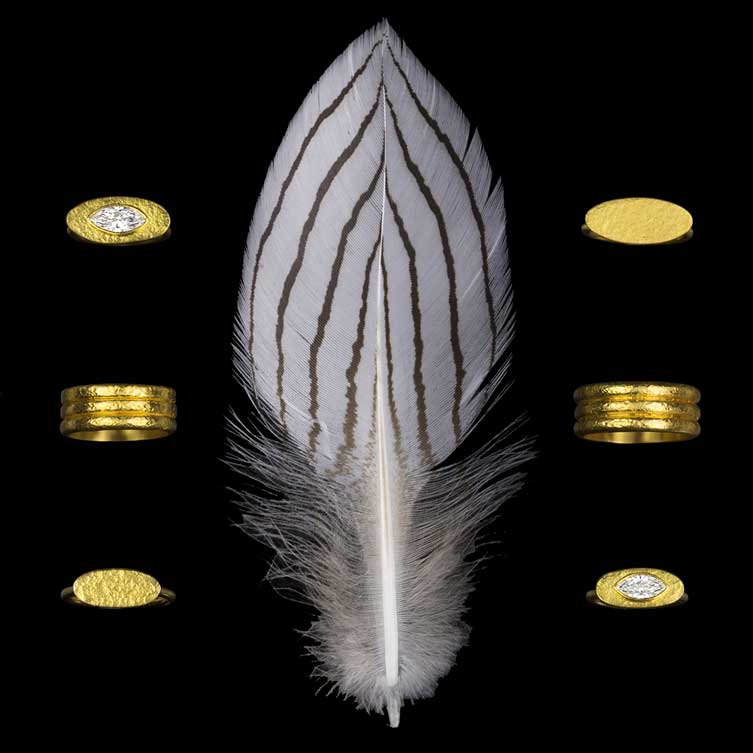 Where do you get your inspiration? 
I definitely have ideas stored away from working at the Met. But I don't go looking for inspiration. It kind of finds me when I'm ready to deal with it. My collection for this summer is Egyptian. It just it came to me, and I started looking through books I had on Egyptian art and jewelry and just started pulling out the elements that kind of spoke to me and felt distinctly Egyptian. I looked at the techniques they were using. My collection for 2020 is Viking. I saw an ancient Viking ring, and I fell in love with it. I thought, "Okay, well, I'm ready." I either accept the idea or let it go.
When women wear your jewelry today, they're wearing pieces fit for noblewoman of ancient times. What do you think contemporary women share with the ancient ones? And in what ways are they different? 
I will say that I've made my pieces much more casual than how they would have been worn, and they're also on a bit of a larger scale, which adds to the casualness. It allows a woman of today to wear the jewelry all the time. In ancient times, jewelry like this probably would have been reserved for special occasions. I think it's just that general feeling of empowerment. It's self-pride. We're adorning ourselves because there's a need to express ourselves and surround ourselves with what we find beautiful. I think that would probably be consistent throughout history.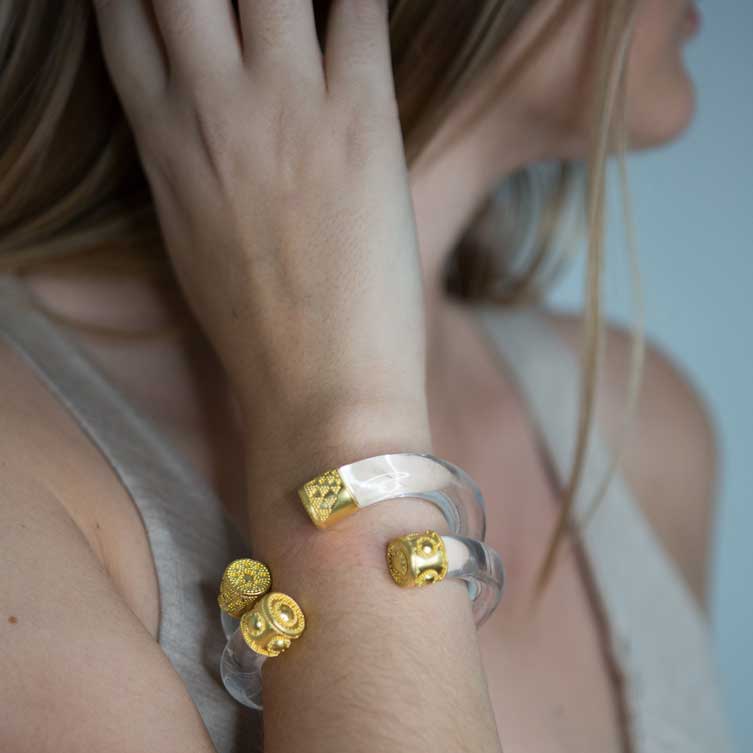 When women put on your jewelry for the first time, what do you hope they feel?
I hope they feel immediately comfortable and that they don't want to take it off. The best part about 22-karat gold is that it's super soft. So I have my pieces that I wear almost every day. And you know, because it's soft, the jewelry has really just taken on all the marks of me banging it into things and who knows what else. It really becomes part of you and your story and your life. I think jewelry shouldn't feel uncomfortable. It's meant to enhance you and feel natural. I don't think you should buy something or connect with something if it doesn't make you feel that way. 
Is there a piece in your collection that you love the most and why?
I actually just finished one piece that I think is the best piece I've ever made. But from my previous collections, I think the Nomad earrings are probably my favorite. They're just so comfortable, and they're lightweight – they move around. They're not super flashy. They're all hand hammered with my favorite hammer. The texture is really simple, but the earrings have a very distinctly Asian form, so you immediately know they're Asian.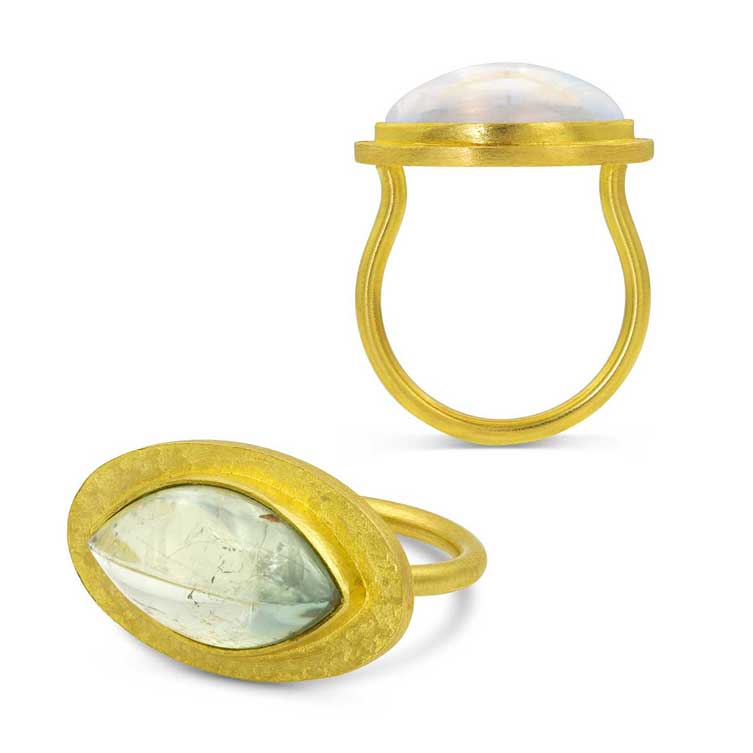 What's the inspiration for your new signet rings?
Designing the signet rings was completely backwards to how I do everything. I knew that I wanted a signet ring. And so I kept looking through all of my Greek jewelry books, trying to figure out what kind of shape I wanted. I ended up putting together elements from several rings, and I got the exact shape that they are now. I came across this image of an ancient Egyptian ring that looked identical to it, and it was actually from the Met collection. So I'm wondering, "Did I see this at one point and not remember it?" I originally thought that design was Greek, but it's an ancient Egyptian ring, although that could be great because they traded and interacted with each other. The marquise stones suit the shape of the ring but are reminiscent of an evil eye. I come from a Greek family with evil eyes galore. 
How do you choose stones for your pieces? Are you as interested in gemstones as you are gold? 
My interest and focus are definitely on the gold and creating different textures with the gold. I only work in one alloy. It's the most common alloy that the ancient Greeks used, and it's super yellow because of copper in it. You can slightly change the color of the gold by manipulating the surface in different ways, by adding granules, or by hammering it. However, I've been trying to incorporate more color in the past year and a half. 
I keep it consistent because there are so many stones out there. I only work in cabochons with soft edges. Really gemmy cabochons in any color. I mostly work with tourmaline just because I love the colors. Occasionally, I use diamond melee, but I don't really like sparkles.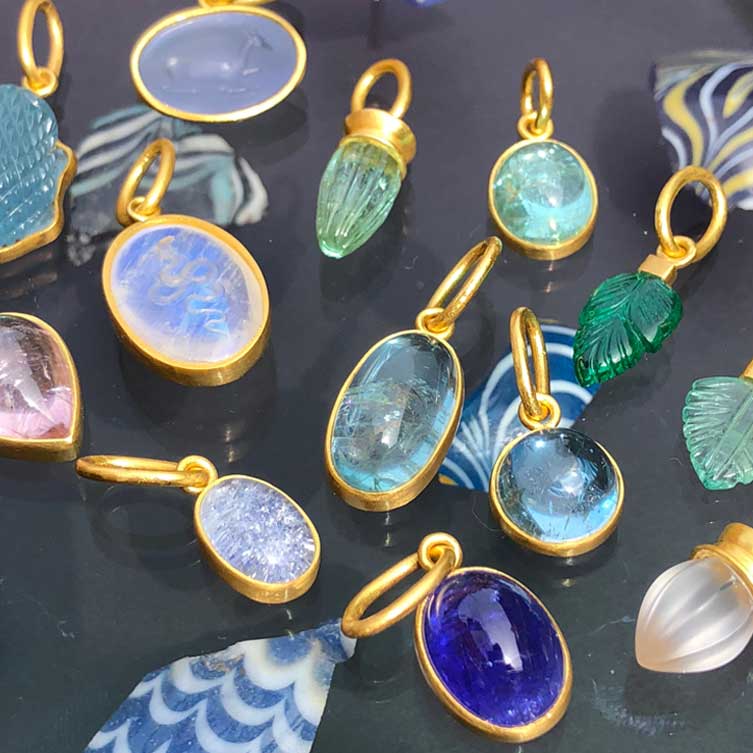 Charms are a big part of my collection. It's kind of fun to watch women style and combine colors. And like I said, they also combine colors and combinations I would never have considered. One of my clients must have seven charms by now, and every time she chooses the color, I am completely shocked. It's so colorful and so not me, but it just so perfectly suits her. When I wear the charms, I have them all bunched together on a long leather cord. My client wears one piece on one chain, and she has five or six chains at different lengths. That's really cool. It's super fun just to see how people style things and what they're attracted to. It just completely blows my mind like, "Okay, I did not see that coming. I'm so excited for you."
Shop Loren Nicole's collection on MEMO.