Dana Bronfman – The Desert Glow Collection + Fairmined Gold
November 4th, 2019 | by Laryssa Wirstiuk|Dana Bronfman, Fairmined Gold
New York designer Dana Bronfman has always handcrafted her pieces from reclaimed 18K gold, post-consumer diamonds, and ethically sourced gemstones. But in her latest Desert Glow collection, she has taken her commitment to sustainable materials a step further by incorporating fairmined gold, which creates job opportunities for artisanal miners all over the world and benefits their local communities. Dana recently shared more about her latest collection and why supporting fairmined gold is so important for humanity and the environment.
What was the inspiration for your latest collection?
My latest collection, called Desert Glow, draws inspiration from my love for the desert landscape. The colors shown throughout the collection pay homage to the many ways the desert glows through its different phases of the day and night. The goddess of the desert was my muse for this collection. I see her embodied through quietly bold, unapologetically one-of-a-kind women, whose genuine and enigmatic glow also light up the day or night.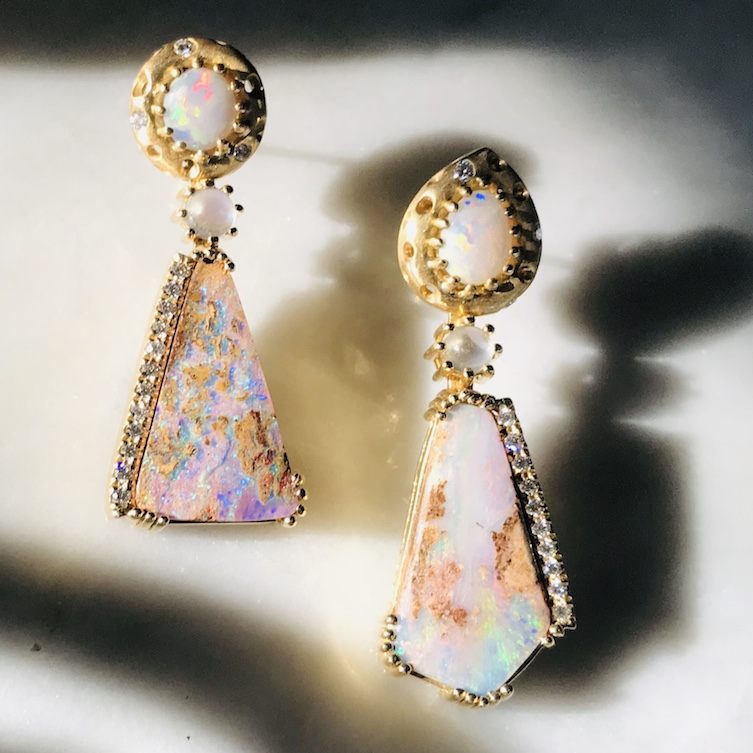 The Desert Goddess Earrings from the Desert Glow collection feature 18K fairmined gold, opals, moonstone and diamonds.
What are some of the highlights of this collection?
Muzo emeralds, Australian opal, moonstone, rutilated quartz, green sapphire, spessartite garnet, pink tourmaline, and VVS diamond accents are all highlights. Each gem's kaleidoscope of color glows naturally with one-of-a-kind inclusion patterns, which allow each piece to tell a unique story that could never be replicated.
Yellow gold with matte and hammered finishes are reminiscent of the expansive dunes of Wadi Rum, the emeralds and purplish opals are meant to capture the natural beauty of Arizona cacti and their flowers, fiery colors express the daytime heat and sunsets that burn a special kind of bright in Santa Fe. Moonstone, oxidized metal, and diamonds express the glow and twinkle of stars against the spacious night sky.
You'll also notice my signature oculus throughout the collection. The circular cutouts of open space allows the natural light to shine through and appear playfully on the backs, sides, and front of the jewels to add another dimension to the pieces and compliment the multidimensional women who wear my jewelry.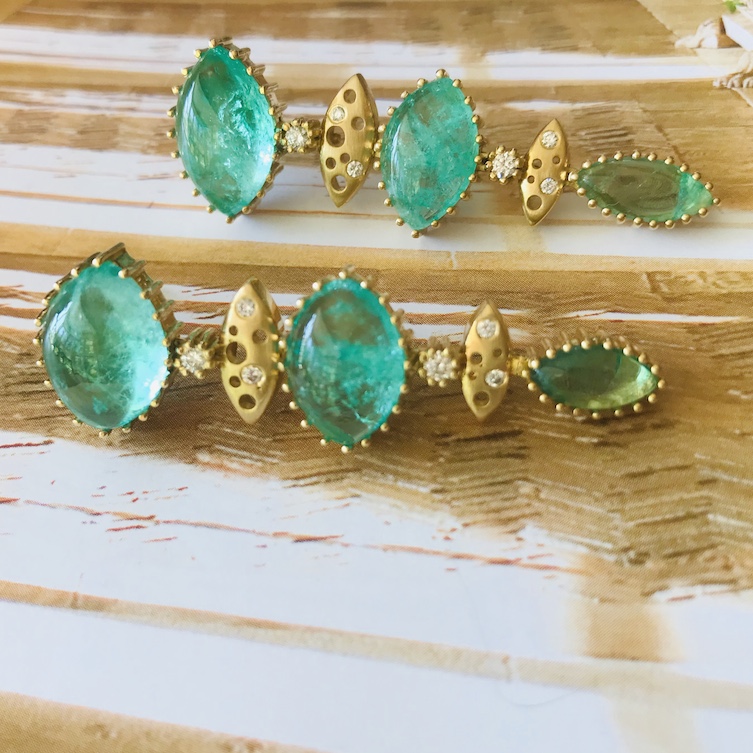 The East-West Marquise Muzo Emerald & Oculus Tiered Drop Earrings featuring 18K fairmined gold.
What inspired you to incorporate fairmined gold in your new collection?
I created my signature collection in recycled gold, but I feel it's necessary to also support fairmined gold, which gives jobs to artisanal miners and helps them contribute to their communities. Thanks to the safe working conditions, living wage, health benefits, and positive economic impact, the entire community benefits.
Using fairmined gold as a designer allows me as well as my customers to support miners and to improve a far-away community. We're helping to grow a mining industry that's sustainable for the people involved and the environment. Gold will continue being mined, but this way is much less toxic to the miners and the planet.
What are the best ways to support fairmined gold?
The best way to support fairmined gold is to do business with jewelers who work with it. If you purchase from jewelers who do not work with fairmined gold, please let them know that you would like them to use fairmined gold, and that you would be willing to pay the small premium price increase, which is a great investment in the future of our planet and our human race. This means writing to jewelry brands you love or talking to the staff at your local jeweler.
In this changing retail economy, many retailers are fearful they will not be able to sell fairmined gold jewelry due to its higher price, while others simply have never heard of it. If you own jewelry using fairmined gold, tell your friends, loved ones and strangers who compliment your pieces about what fairmined gold means and why your piece is not only beautiful on the outside but has a beautiful story tied to its source.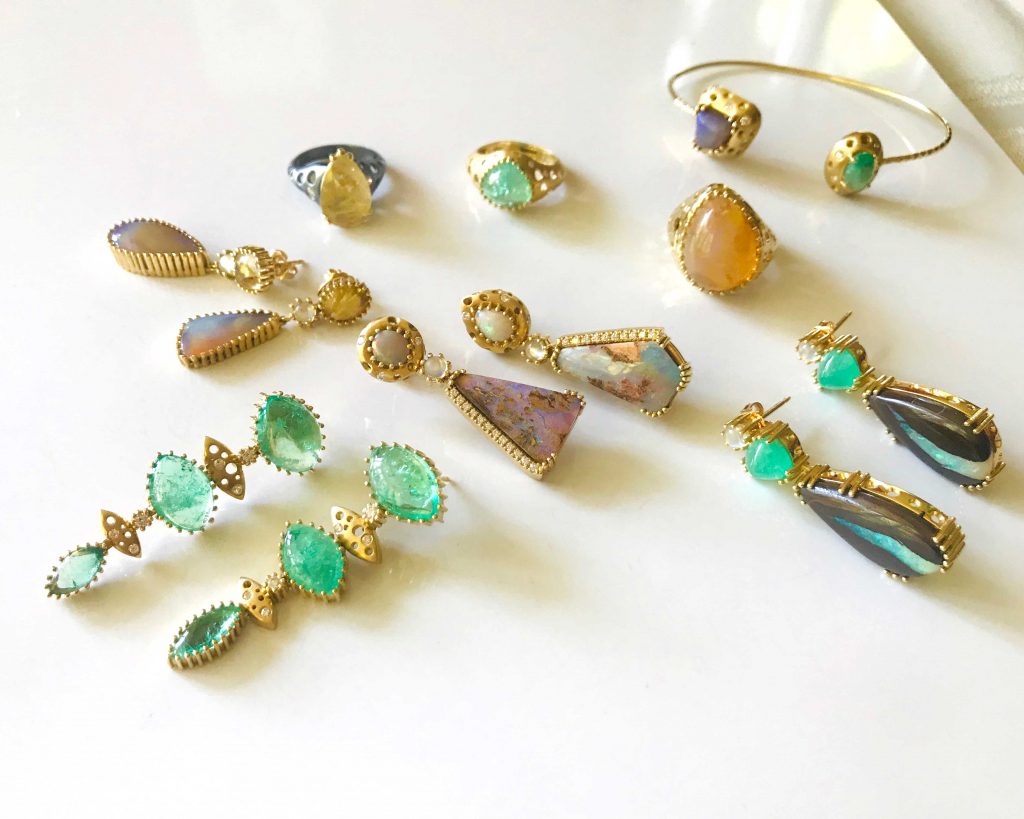 Why will buying fairmined gold continue to be important in the future?
It is more important than ever before to support fairmined gold. Artisanal mining is the number one source of mercury pollution in the environment, which wreaks havoc on people's health as well as our ecosystems, so it's important to support mining that promotes protection from toxic chemicals, safe and proper disposal of chemicals, or – in best-case scenarios – avoidance of toxic chemical use. A piece of jewelry can only be as beautiful as its origins.
Big Sur Goldsmith
March 20th, 2020 | by Laryssa Wirstiuk|Big Sur Goldsmith, Designer Dossier
A hidden treasure from an austere yet magical destination nestled on the Pacific coast between San Francisco and Santa Barbara, Big Sur Goldsmith produces one-of-a-kind fine jewelry pieces infused with a rich family legacy that began with the creativity, inventiveness, and skill of patriarch Karl Lee.
Karl first developed his passion and skill for metalsmithing at The Esalen Institute in the 1960s.  By the 1970s he had perfected his skills in casting and hand fabrication, mixing metals, 22K gold, platinum and silver in unique ways. In the 1980s, Karl's son Aurthur started apprenticing under his father and daughter-in-law Carrie Armstrong soon followed, eventually contributing their own vision and point of view to the pieces. Here, they share more about the origins of their family business and what makes it so unique.
We've heard that there's a certain magic to visiting Big Sur Goldsmith in Big Sur, CA. What do you attribute that to?  
My father hitchhiked to Big Sur from Los Angeles when he was 17. He lived at Esalen and made pottery and painted until finding his Partington Ridge studio, which was previously owned by Henry Miller (he later moved to an adjacent property with a nicer house). Here, my dad began making jewelry. We have always worked from a home studio and sold our work in art galleries.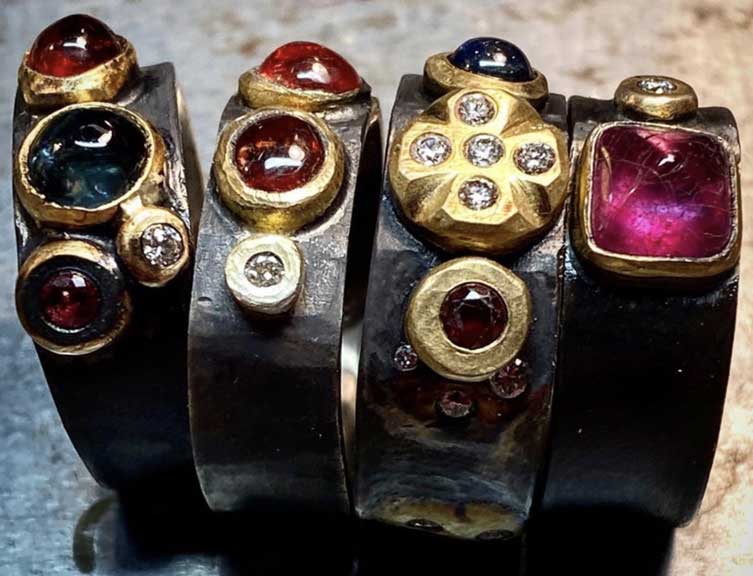 Big Sur Goldsmith Artifact Rings 
We'd love to hear more about what it's like to grow up in Big Sur. Can you describe it? How does your environment inform your designs?
Growing up in Big Sur was truly unique, especially in the 80s. Perched above the ocean, Big Sur is two hours from the nearest town and surrounded by mountains covered in oak trees and redwoods. We were visited by Tibetan Rinpoches, Japanese sword teachers, Hollywood actors and producers, and peace activists. It was a truly unique setting and time. It certainly inspired an irreverence for rules, like the ones I learned during my traditional European style jewelry apprenticeship.

Tell us a little bit about your father's passion for metalsmithing. How did he originally develop his craft and ultimately a business?
My father was a Renaissance man. He was a master painter, potter, metal fabricator, distiller of essential oils, sculptor – really anything that he tried. He was an old school savant and found his living as a jeweler; these things happen, and we don't know why? His work was always distinctive and singular. Over the years he developed a loyal following of regular collectors and always new fans. Years after his passing, I still regularly receive emails or run into people wearing his distinctive work. Most of his paintings were in a private collection, which burned in a Beverly Hills house fire some years ago, but the jewelry remains.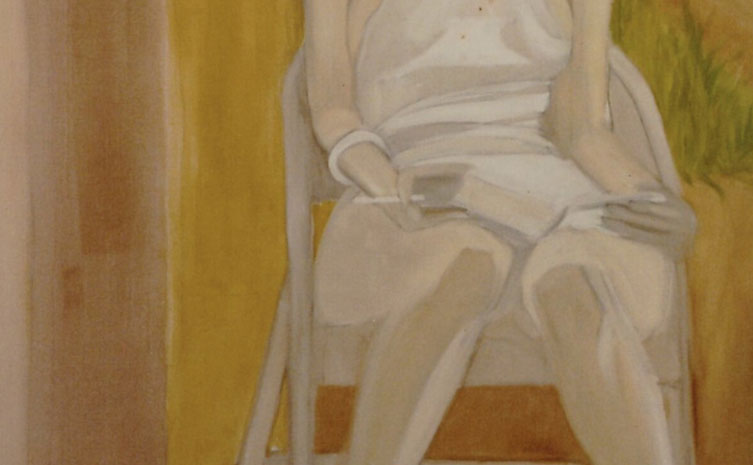 What was unique about your father's approach to metalsmithing?
My father had two main principles: The Golden Mean and that a woman should never catch her hair or clothing on the jewelry – that it should meld with the body and not be obtrusive. This extended to a ring shape that is not round, as the human finger certainly isn't round.
What was it like to apprentice with your father in the late 1990s?
I always had a bench in my father's studio, and from an early age I began playing with silver and tools. As soon as I was able, I began helping him sand stones in the lapidary process and buffing and polishing his jewelry, the grunt work. My formal apprenticeship came later with an European-trained Armenian Jeweler in Carmel by the Sea by the name of Kirkor Kocek.
Can you tell us a little bit about the traditional, old-world methods in hand fabrication that you're still using to make jewelry today?
We do everything the old way, creating our own alloys and hand fabricating every part of our work. We do not cast and do not buy premade findings. I have always marveled at the mastery of the ancients like Chellini. How did they do so much with so little? While I can't parallel their mastery, I do enjoy the Old World process and using house-made high-karat alloys and the old ways to create unique pieces that don't seem machine made but are clearly handmade to the eye and the finger.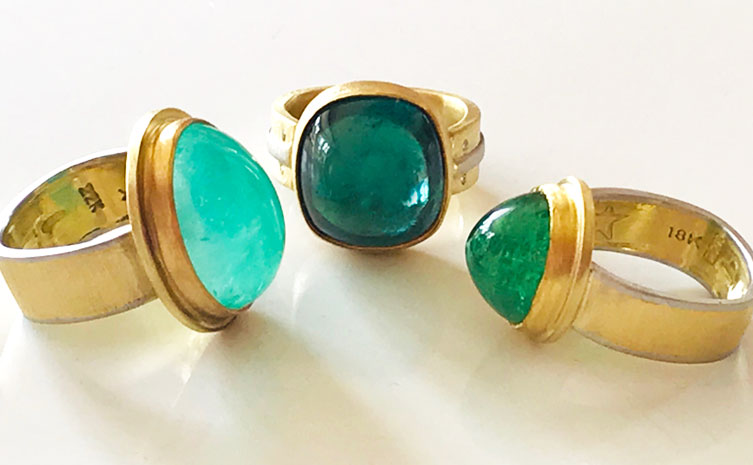 The Columbian Emerald Ring, Sugarloaf Indicolite Ring, and Green Tsavorite Garnet Ring.
What are some other ways that you keep the family tradition alive in your business?
We still use my father's old bench and original tools (with some additions, of course). Carrie (CAD) works at my father's old time-worn bench, and I work at the same bench that he had assembled beside his workspace, so I could play near him when I was young. Very little has changed, and we even carry on the 40+ year tradition of a loyal Australian shepherd shop dog sleeping at our feet.
What can you tell us about your father's gemstone collection, and how do you select the stones to include in your finished pieces?
We traveled to gem shows all throughout my life. My father was a very skilled stone cutter of both cabochons and faceted stones, and many of these stones are still sitting and waiting to be set. I try to honor the stones that he collected as best as I am able, and when I see a stone that I think he would have liked, I can't resist adding it to the collection.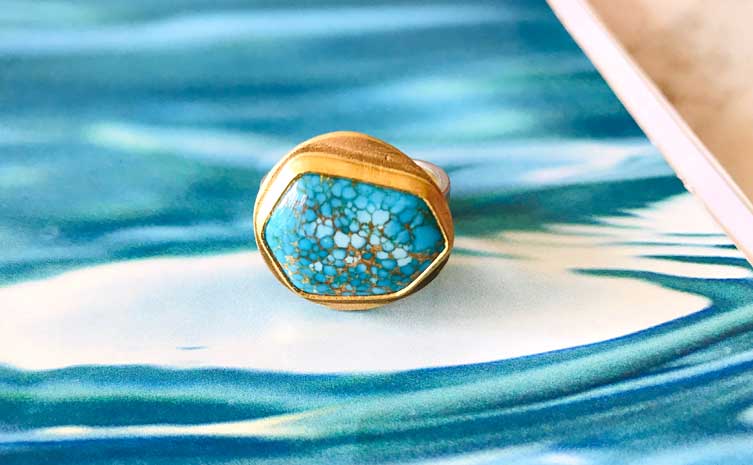 The No. 8 Turquoise ring set in 22K gold on a platinum band.
We understand that you receive a number of requests for custom pieces from clients. Can you tell us a bit more about the types of custom pieces you're creating right now?
I have been inundated by requests for custom work since I ventured into the modern world of Instagram and a website. Many have come from collectors of my father's work, but others are from customers who see something they like but want it custom-made in their particular size or with a particular stone. Currently I'm fabricating a mounting in 22K gold for a 26 carat No.8 Turquoise stone, which my father collected and cut more than 20 years ago.
What is your vision for your collection? How do you see it evolving and growing in the future?
I must admit I'm more spontaneous and let the inspiration or the "Neters", as the Egyptian's put it, visit. This is how my dad liked to explain his creative process, and I think that was contagious. 
Loren Nicole
April 6th, 2019 | by Laryssa Wirstiuk|Designer Dossier, Loren Nicole
Loren Nicole first became interested in metalsmithing while working as an archaeologist on digs in Central and South America, researching ancient civilizations of northern Peru. After serving as a conservator for ancient and ethnographic textiles of the Americas, Oceana and Africa Collections at the Metropolitan Museum of Art in New York City, she intended to pursue her PhD, but metalsmithing led her in a different direction. After taking classes in metalsmithing to better understand the objects she encountered in her work as a conservator, Loren began to fall in love with creating jewelry out of high-karat gold and learning to use ancient techniques like granulation. In her current work, she exclusively uses 22K gold, which is warm and lively but also soft enough to take on the unique story of the person who wears it. Her upcoming collection, due this summer, will be influenced by ancient Egyptian jewelry.
What was the moment that made you think, I can try metalsmithing myself? Did something encourage you? Did you seek out instruction? 
It started from a young age. I was very crafty. In college, I used to sell beaded jewelry at the farmers market just for fun. I have that natural curiosity, and I've worked with a lot of different crafts. I know how to weave and throw pottery and have done a little bit of glass blowing. So it wasn't out of character to take a class.
I guess it really happened while I was working as a conservator, and I was just becoming more curious about metals and how metals are made. That really drove me to seek out classes. Because I was mostly working with ancient objects, I started specifically looking for people who were teaching ancient metalsmithing. I really got into granulation, which is a technique that's been used for four thousand years. The Etruscans are the most famous for it. In modern-day Indian and Southeast Asian jewelry, you can still see a lot of granulation, but it's really something that's kind of forgotten. 
It was all very natural. It spoke to me. I picked up the skills quickly, and it was a way to share my love of archaeology. It became a creative outlet for me, the perfect marriage of everything I studied, and I had a natural aptitude for it.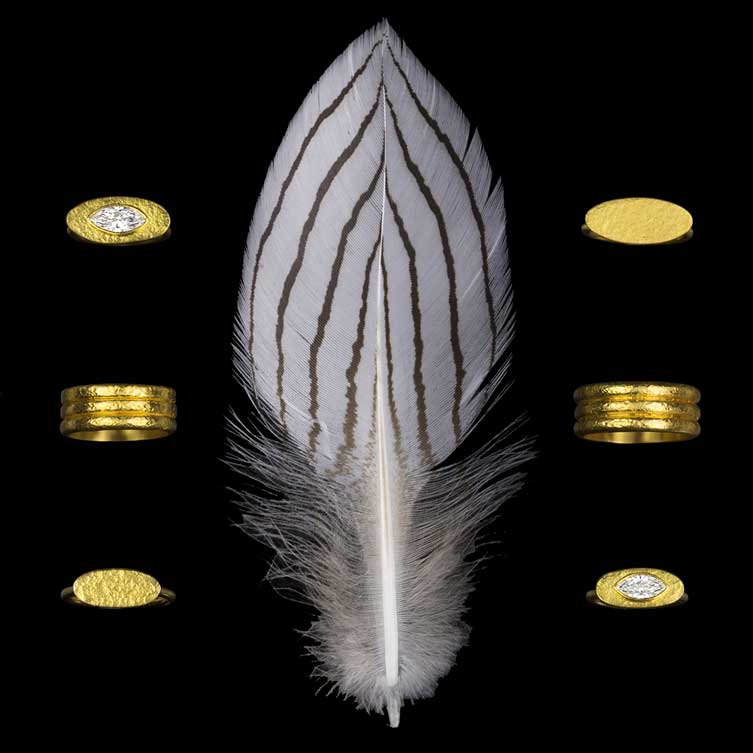 Where do you get your inspiration? 
I definitely have ideas stored away from working at the Met. But I don't go looking for inspiration. It kind of finds me when I'm ready to deal with it. My collection for this summer is Egyptian. It just it came to me, and I started looking through books I had on Egyptian art and jewelry and just started pulling out the elements that kind of spoke to me and felt distinctly Egyptian. I looked at the techniques they were using. My collection for 2020 is Viking. I saw an ancient Viking ring, and I fell in love with it. I thought, "Okay, well, I'm ready." I either accept the idea or let it go.
When women wear your jewelry today, they're wearing pieces fit for noblewoman of ancient times. What do you think contemporary women share with the ancient ones? And in what ways are they different? 
I will say that I've made my pieces much more casual than how they would have been worn, and they're also on a bit of a larger scale, which adds to the casualness. It allows a woman of today to wear the jewelry all the time. In ancient times, jewelry like this probably would have been reserved for special occasions. I think it's just that general feeling of empowerment. It's self-pride. We're adorning ourselves because there's a need to express ourselves and surround ourselves with what we find beautiful. I think that would probably be consistent throughout history.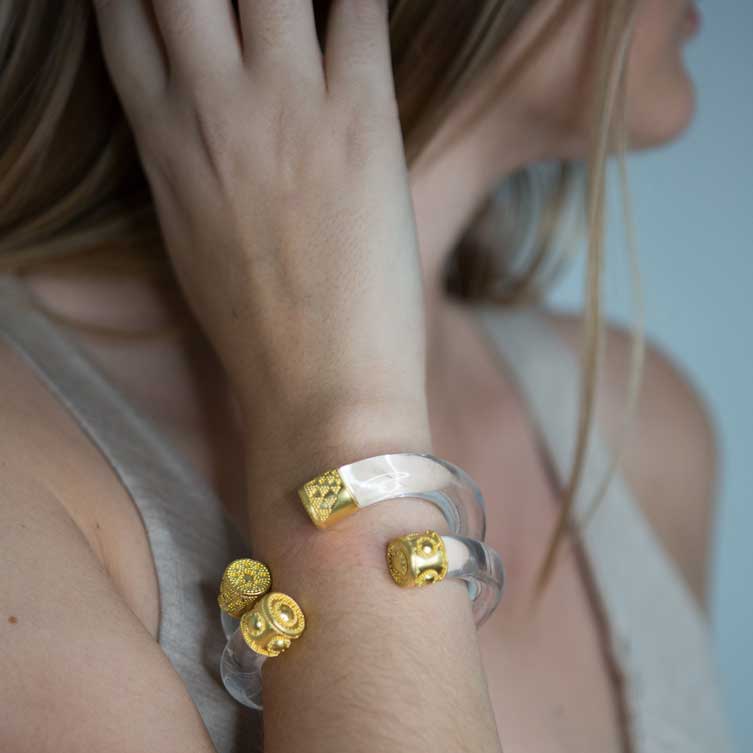 When women put on your jewelry for the first time, what do you hope they feel?
I hope they feel immediately comfortable and that they don't want to take it off. The best part about 22-karat gold is that it's super soft. So I have my pieces that I wear almost every day. And you know, because it's soft, the jewelry has really just taken on all the marks of me banging it into things and who knows what else. It really becomes part of you and your story and your life. I think jewelry shouldn't feel uncomfortable. It's meant to enhance you and feel natural. I don't think you should buy something or connect with something if it doesn't make you feel that way. 
Is there a piece in your collection that you love the most and why?
I actually just finished one piece that I think is the best piece I've ever made. But from my previous collections, I think the Nomad earrings are probably my favorite. They're just so comfortable, and they're lightweight – they move around. They're not super flashy. They're all hand hammered with my favorite hammer. The texture is really simple, but the earrings have a very distinctly Asian form, so you immediately know they're Asian.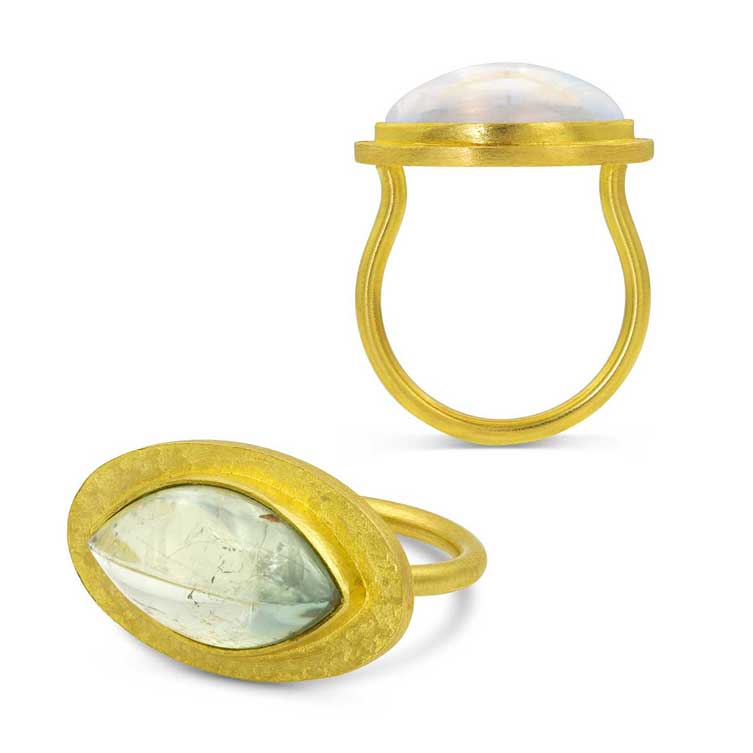 What's the inspiration for your new signet rings?
Designing the signet rings was completely backwards to how I do everything. I knew that I wanted a signet ring. And so I kept looking through all of my Greek jewelry books, trying to figure out what kind of shape I wanted. I ended up putting together elements from several rings, and I got the exact shape that they are now. I came across this image of an ancient Egyptian ring that looked identical to it, and it was actually from the Met collection. So I'm wondering, "Did I see this at one point and not remember it?" I originally thought that design was Greek, but it's an ancient Egyptian ring, although that could be great because they traded and interacted with each other. The marquise stones suit the shape of the ring but are reminiscent of an evil eye. I come from a Greek family with evil eyes galore. 
How do you choose stones for your pieces? Are you as interested in gemstones as you are gold? 
My interest and focus are definitely on the gold and creating different textures with the gold. I only work in one alloy. It's the most common alloy that the ancient Greeks used, and it's super yellow because of copper in it. You can slightly change the color of the gold by manipulating the surface in different ways, by adding granules, or by hammering it. However, I've been trying to incorporate more color in the past year and a half. 
I keep it consistent because there are so many stones out there. I only work in cabochons with soft edges. Really gemmy cabochons in any color. I mostly work with tourmaline just because I love the colors. Occasionally, I use diamond melee, but I don't really like sparkles.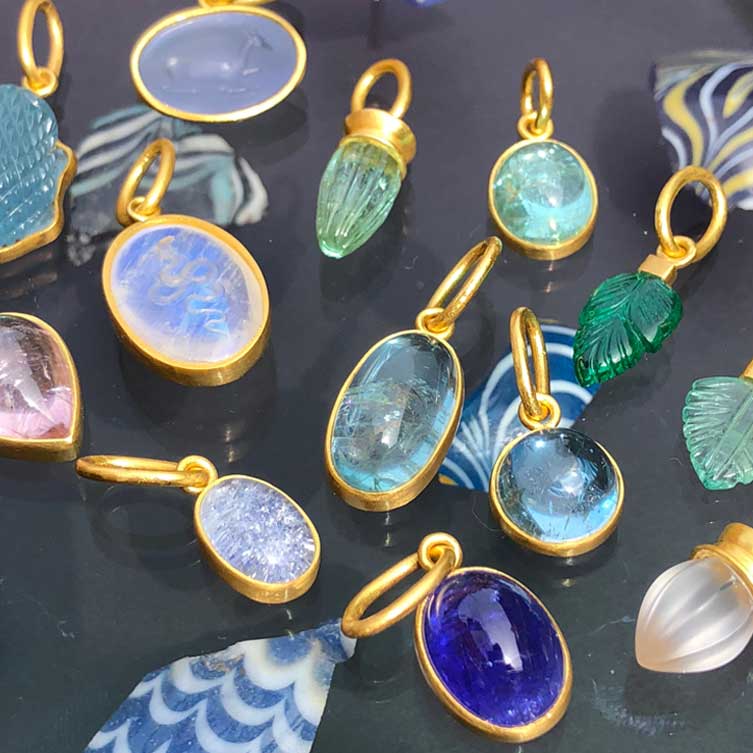 Charms are a big part of my collection. It's kind of fun to watch women style and combine colors. And like I said, they also combine colors and combinations I would never have considered. One of my clients must have seven charms by now, and every time she chooses the color, I am completely shocked. It's so colorful and so not me, but it just so perfectly suits her. When I wear the charms, I have them all bunched together on a long leather cord. My client wears one piece on one chain, and she has five or six chains at different lengths. That's really cool. It's super fun just to see how people style things and what they're attracted to. It just completely blows my mind like, "Okay, I did not see that coming. I'm so excited for you."
Shop Loren Nicole's collection on MEMO.
From Gem to Jewelry: Behind the Scenes with Amy Gregg
April 5th, 2017 | by Alison Burwell|Amy Gregg, Dossier
Gemstones are Amy Gregg's passion. As a college graduate, she honed her skills working as a stone buyer for fellow SoCal designer Irene Neuwirth. Today, Gregg's eagle eye for unique stones is reflected in her own jewelry line, which she stacks with one-of-a-kind finds from Peruvian opal to rainbow moonstone.
Here, Gregg fills us in on her design process from late-night pencil sketch to finished piece.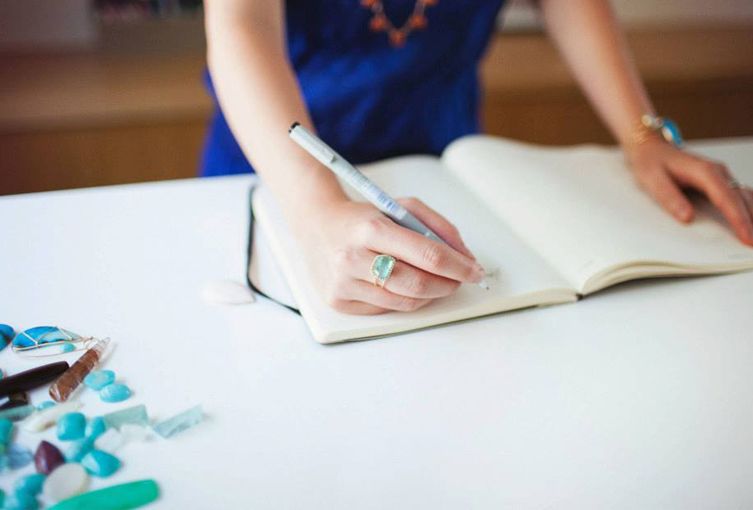 Tell us about the "hunt" for gemstones. Do you attend the gem shows that are held all over the world?
"At this point, I have relationships with dealers I've met through various gem shows. I know which vendors specialize in different stones, and they know what I'm looking for.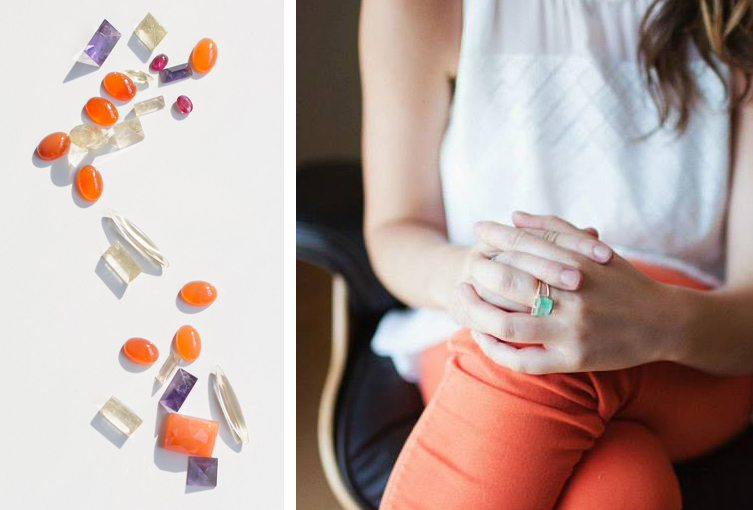 I've seen so many rocks at this point! It's exciting to find something that looks completely unique. So, I have an open dialogue with a handful of dealers who keep me up-to-date. A dealer will say, 'I found this rough material, do you want me to cut some samples?' From there, I draw out new designs and experiment."
Where do you get your design inspiration?
"I wake up in the middle of the night with an idea for an earring or a ring. I keep a pad of paper on my nightstand and write it down quickly. I spend a lot of time drawing jewelry and manipulating and arranging stones in different ways."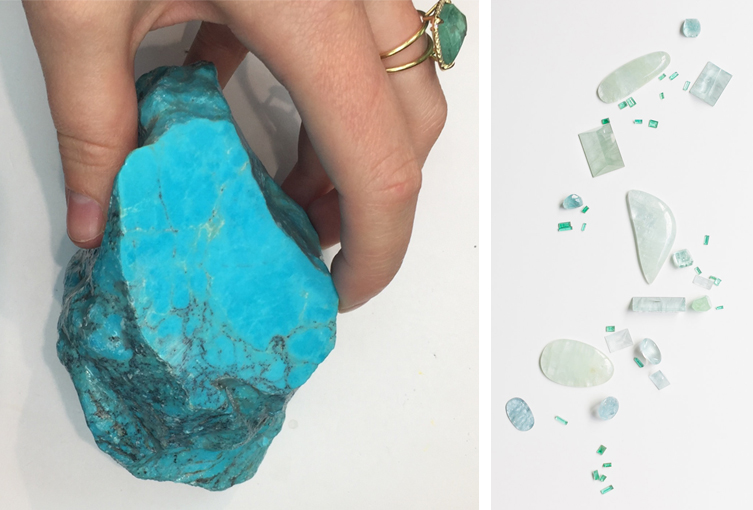 My favorite stone is…
Peruvian opal is one of my favorites. I like stones that have visible inclusions—I think it makes them more interesting. To me, they have more character than just a clear stone.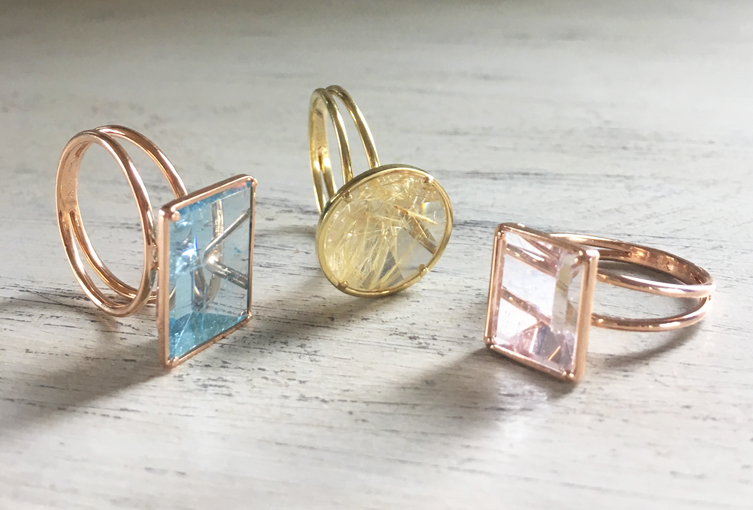 My favorite gemstone shape is…
"A big cut of mine is the mirror cut. I love the reflective quality and how the light bounces off it. I work with a lapidary and we experiment on exactly how to cut different stones. Many are one-of-a kind as a result. A lot of the mirror cuts are aquamarine and morganite, and I've done some amethyst as well."
When I'm not designing jewelry…
"I'm very consumed with mommy-ing and that is the most incredible thing I've ever done! I have an 18-month-old daughter. I draw a lot and I love to cook. My daughter and I spend a lot of time in the kitchen together."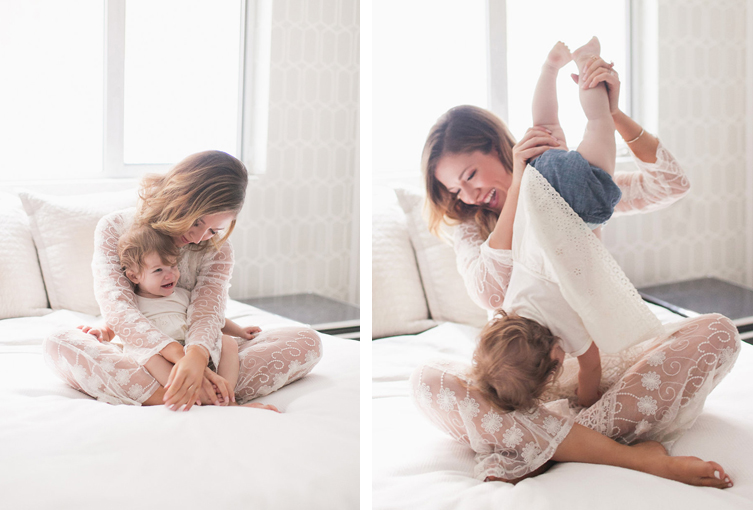 My design ethos is…
"When you work in an industry, you start seeing what you want to wear. That's how all this started. I like beautiful jewelry, but I like pieces that can transition from daytime to nighttime seamlessly. There's no point in having a jewelry box full of things you don't want to wear–or can't wear."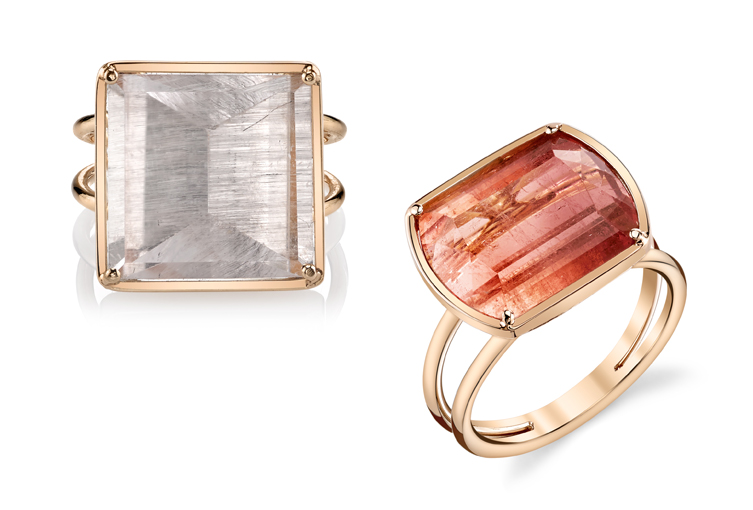 My fashion uniform is..
"I love Chloé.  To me, that brand perfectly walks the line between carefree yet confident style. You can wear their pieces a million different ways, make a statement and always feel utterly feminine the second that you put them on.
I love James Perse and Vince basics for every day. There is nothing better than a few layered chains, a soft tee, blazer and jeans that I can pair with a fun pair of heels at work and then slip on my sneakers on the way home to chase around my little one.
I am also obsessed with Santa Marguerite's embroidered tops and dresses. Those will be my go-to this summer. Each piece is an incredible work of art that I find stunningly beautiful."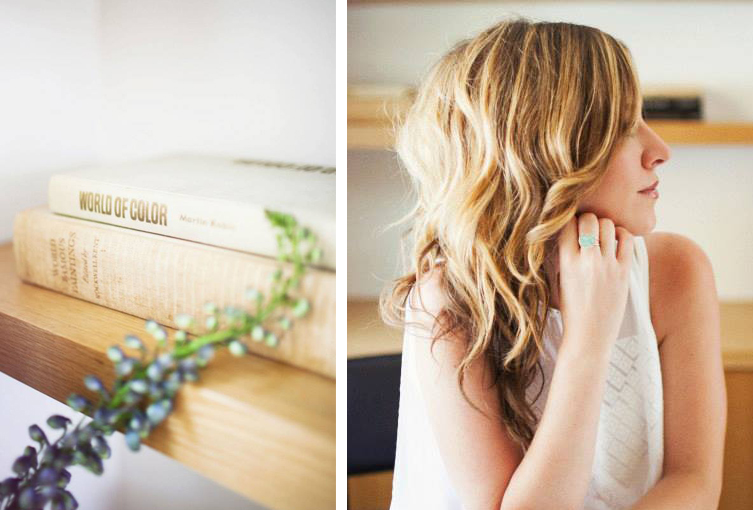 My jewelry basics are…
I have my set of jewels that I never take off: my engagement ring and wedding band that I designed with my husband (he thought of the band which makes the shape of an "A" on either side to represent our initials); my green tourmaline ring (the first piece that I ever made…I put it on and never took it off…It reminds me of how far I have come and to always keep pushing); a rainbow moonstone ring that my husband and I made after our daughter was born as my "push present"; and finally, a rose gold chain necklace with three tiny diamonds that represent each member of our family. The pieces that I don't take off each have significant meaning, which is one of my favorite things about jewelry."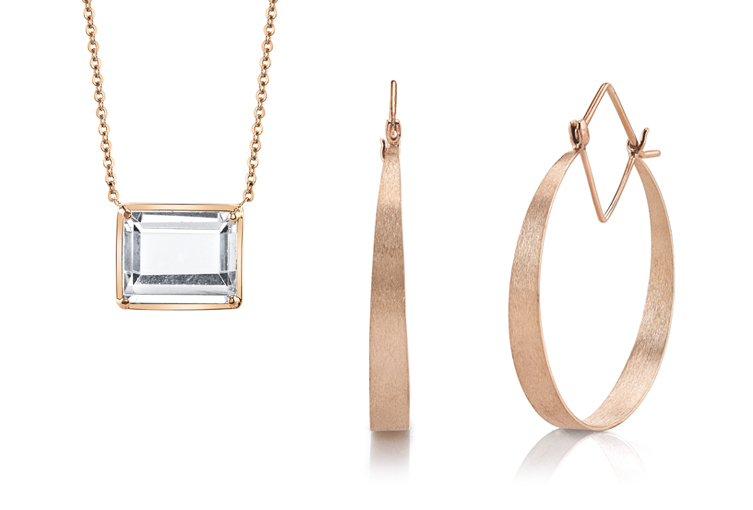 Meet Pippa Small
February 10th, 2017 | by Alison Burwell|Ethical Jewelry, Pippa Small
For nearly two decades, Pippa Small's haute bohemian jewelry has earned her a devoted following around the globe. But what may surprise fans of her colorful, exotic gem-laden designs is the scope and scale of the London-based designer's humanitarian work.
A dedicated volunteer for Turquoise Mountain, a NGO founded in 2006 by Prince Charles and the Afghan president, Pippa travels several times a year to war-torn countries such as Afghanistan and Burma, helping to train a new generation of craftspeople, restore their communities and connect their work to the global market. Pippa is also an ambassador for Survival International, a human rights organization that supports tribal communities.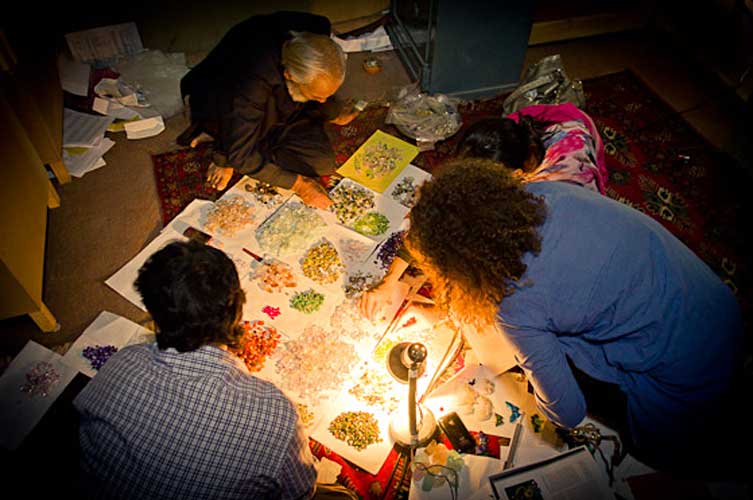 Here, the London-based designer chats with Memo about her work as an activist, her greatest design inspiration and that shiny medal she received from the Queen.
You're a trained anthropologist and human rights activist. How did you find this intersection between jewelry and humanitarian work?
Craft is a way people can stay in their community. Out of the options they have, it's a good one. Creating something that has more value than the tourist knickknack.
I studied anthropology and went from there to working in Borneo on mental illness. I have always had a fascination with human rights and tribal communities. I want to help these people find income-generating work so they can stay in their communities and not be forced into migrant labor or domestic slavery.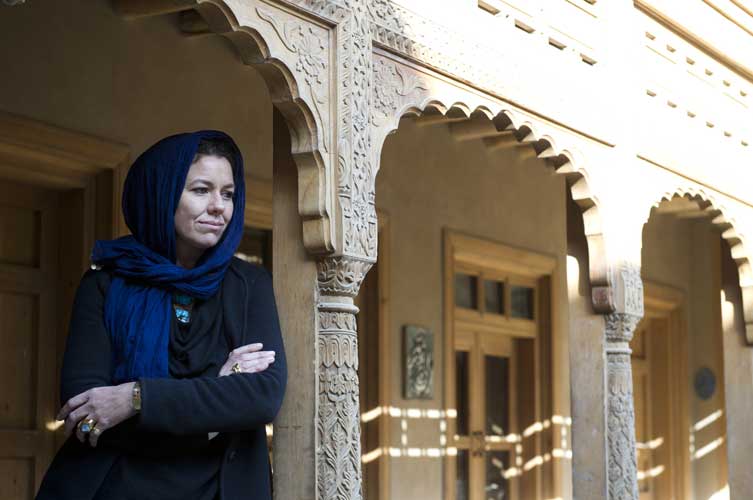 Tell us about your work in Afghanistan.
I just came back last week from Kabul. It's been this amazing journey the last eight or nine years there. Turquoise Mountain was a NGO started by Prince Charles to preserve traditional craft and architecture in Afghanistan. Their culture has been hammered for two generations with the Taliban even banning jewelry.
Since 2006, they have restored 160 buildings, built an art school and a clinic. My role is training, teaching and working with craftsmen who graduate, helping them find jobs, make jewelry and go back into the real world to try to sell it.
The people I work with are so lovely. Over the years, these friendships have formed. We sit and work together and talk about things "What does love mean, what is it like to be married at 13?" It's a tiny insight into this other world.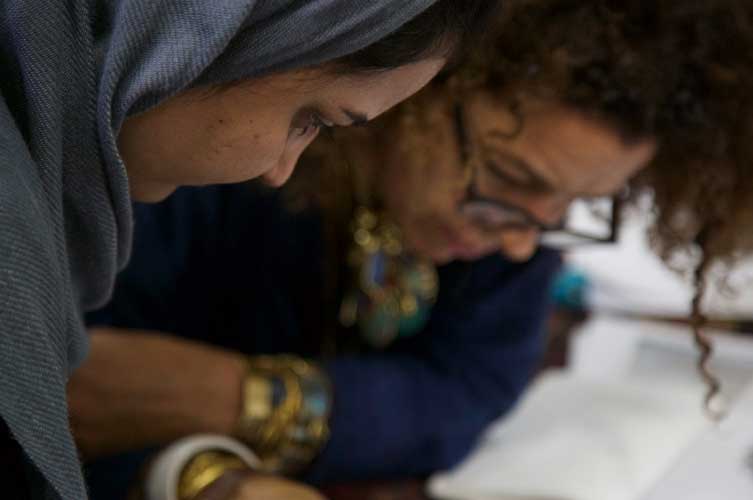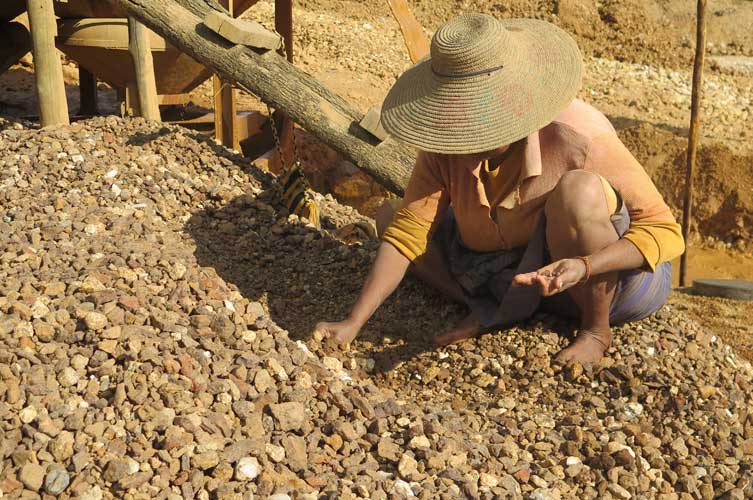 You also volunteer in Burma?
Similar to Afghanistan, Turquoise Mountain is doing a craft and architecture revival there where there's been an incredibly violent dictatorship for many years. But we are keen to create a craft industry within Burma. They have the ruby mines, tourmalines, moonstones—they are so rich on the stone front but a lot has seeped out over the borders. It's a very nebulous market with materials leaking out of the country. It's about trying to create sustainable business for them.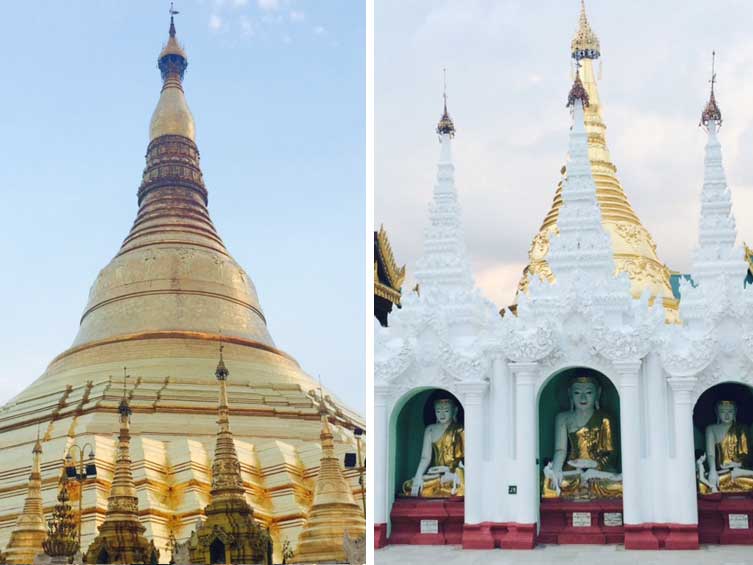 My personal jewelry mecca is…
Rajasthan! I've been going since I was 17. Everything is there. The stone cutters, the goldsmiths—it's a mecca of jewelry. Jaipur is fantastic as well. My schedule is quite chaotic. I travel once a month, I have two four-year-olds in nursery school who come with me to India.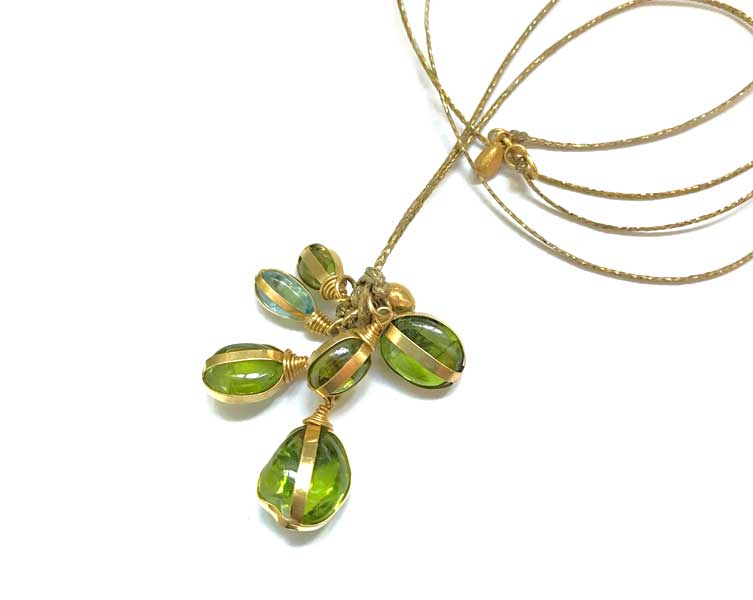 I became a jewelry designer because…
I always loved jewelry as a child. I had an emotional connection to things—even a beach pebble. I grew attached to how these items can hold valuable memories.
My greatest design inspiration is…
I always circle back to nature: the garden, the flower, the leaf, the bug, the blossom. It's endlessly fascinating and satisfying to me. And I love working with stones—the color, the mineral, whether it's translucent or has occlusions. I love it all.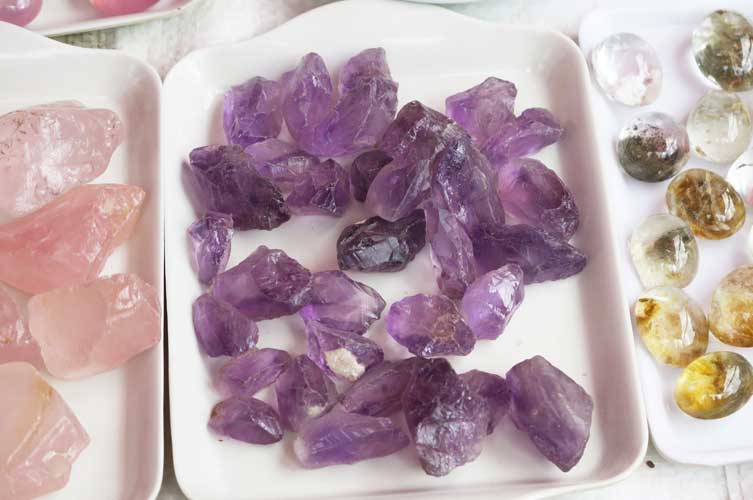 What's next for Pippa Small?
Our next project is with Syrian refugees in three locations: Turkey, Jordan and Lebanon. We want to identify the craftspeople among the refugees and get them back in business—the stone cutters, the goldsmiths, the weavers. There's this whole other tradition and connection with crafts—working with your hands when you are under such physical, psychological and emotional stress.
You received the MBE (Most Excellent Order of the British Empire) from Queen Elizabeth in 2013. Describe that experience.
It's a lovely thing to be acknowledged. The medal was for raising awareness about ethical jewelry in the context of fair trade gold, mining practices, environmental, workers, safety. It's a large movement. Jewelry is a very ancient practice, but it can be slow to change. So we are committed to raising awareness and getting people to demand good practices. The twins are so proud their mom has a medal from the Queen.
Pippa Small jewelry is available on Memo- shop the collection.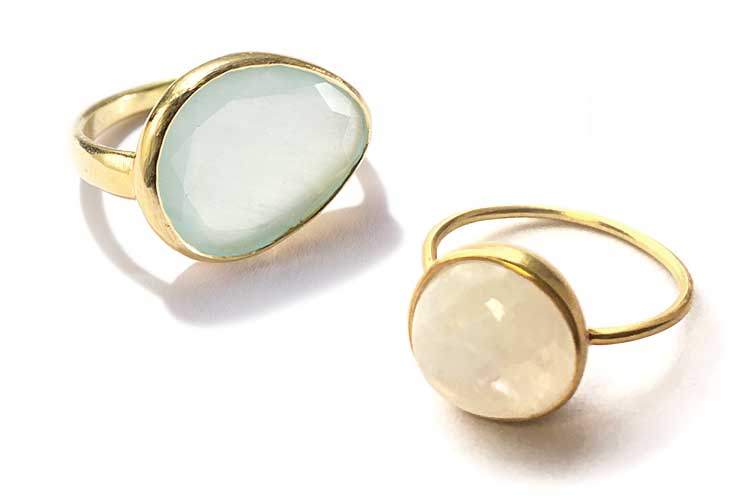 Meet Nicole Landaw
August 31st, 2016 | by Cheryl Kremkow|Dossier, Nicole Landaw
Elegant yet simple. Bold but delicate. Each piece of Nicole Landaw Jewelry is shaped for the body. Experience one and you'll likely become a lifelong collector: it quietly becomes part of who you are. Here are six reasons you'll love Nicole Landaw jewelry.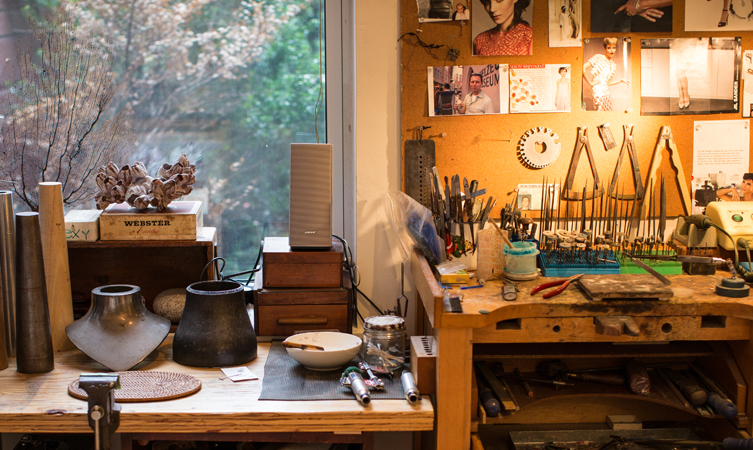 THE STORY
At her jeweler's bench in her Brooklyn studio, gold blossoms in Nicole Landaw's hands. That's where each of her pieces begins and ends: in a world where so many things are mindlessly mass-produced, it's a treat to see real craft. Best of all, she's painstakingly soldering, sawing, carving and setting gems dressed in fabulous jewelry: her own two-fingered Agatha Ring, a bold hammered cuff worthy of Wonder Woman, and bracelet-sized hoops. She is stylish proof that her jewelry is designed for living, working, cooking, and even snowboarding.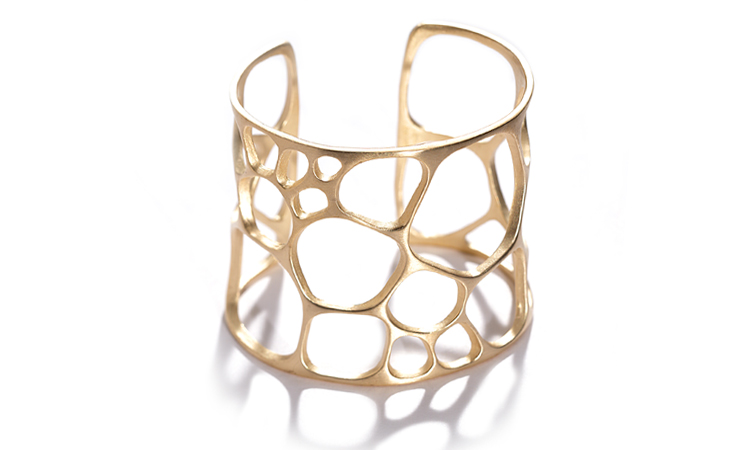 THE JEWELRY
Elegant yet simple. Bold but delicate. Each piece of Nicole Landaw Jewelry is shaped for the body. Cuffs are shaped to leave space for your wrist bone. Earrings are large but light, curved to accentuate your neck. Rings adorn but never hinder you when you move. Her signature of refined sculptural elegance is unmistakable in every piece: experience one and you'll likely become a lifelong collector. It quietly becomes part of who you are.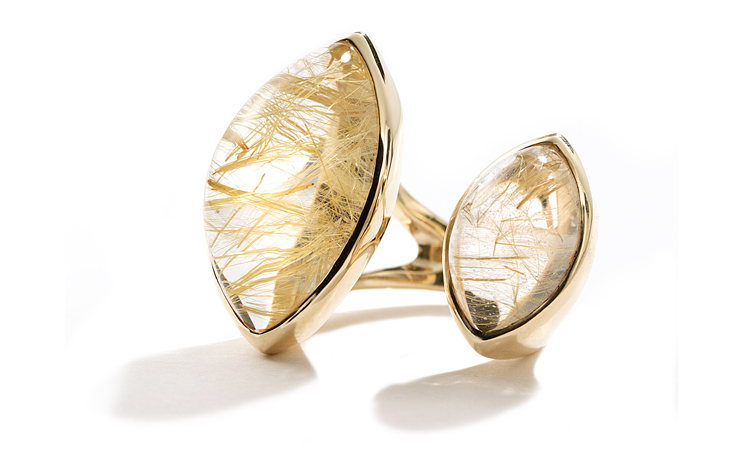 THE ICON
The Agatha Ring isn't a mere circle for your finger, it's sculpture for your hand. Glamorous, yes, but also completely wearable. Take it on Memo and try it on: you'll be surprised at how comfortably it nestles in between your fingers as if it was made just for you by Nicole. Which, of course, it is.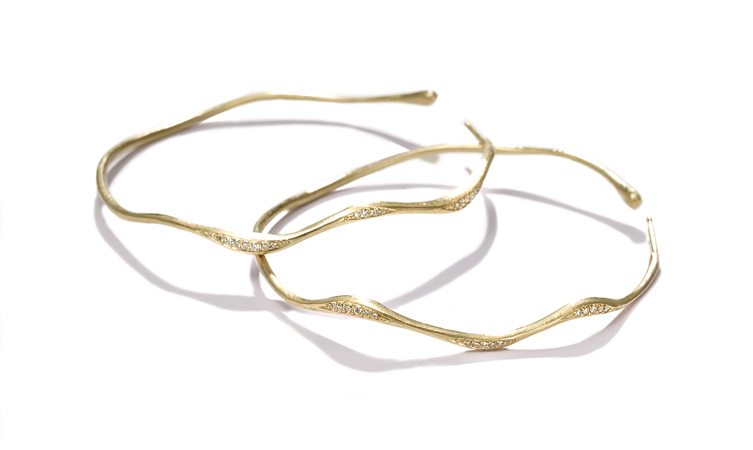 THE ESSENTIALS
We love the Aerin Cuff (seriously, who wouldn't?)  but we are most obsessed by Nicole's earrings because they speak so strongly of the difference thoughtful design makes. Take the Wave Hoops, for example: large yet light. Classic but completely distinctive. Above all, refined and shaped so cleverly that they frame your face and make you shine. Like Nicole, who wears them everyday, you may never take them off.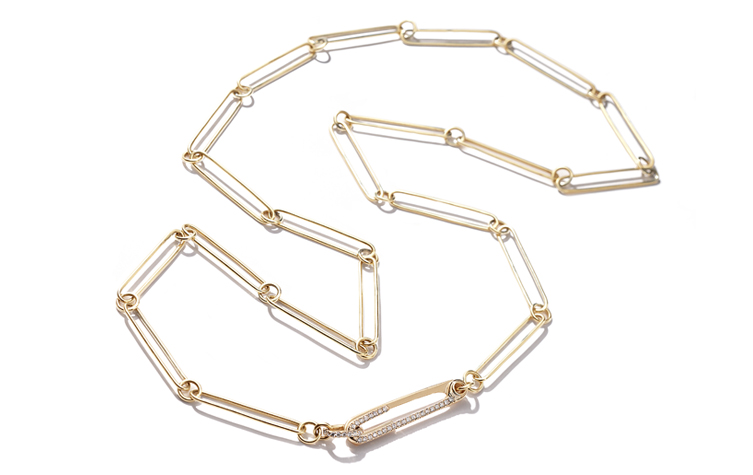 REAL LUXURY
You haven't truly experienced jewelry as craft instead of manufacturing until you've handled Nicole's hand-made chain. She shaped each link of this 34.25-inch necklace precisely and soldered it in place one at a time by hand. Wrap it once, twice or wear it as a lariat or backlace. The "sister" clasp is a traditional two-piece pivoting design that is engineered for function and covered in diamonds for beauty. It's a lesson in what makes handmade jewelry so special.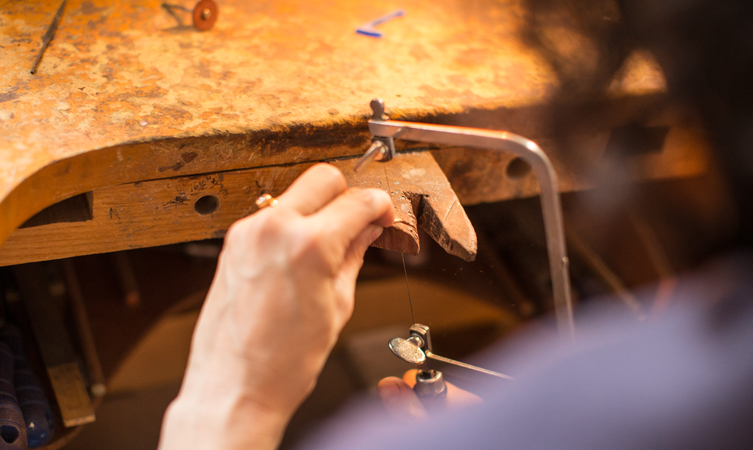 THE INSPIRATION
We visited Nicole's studio and met her greatest inspiration: her young son Jack. We talked family, creativity, and making things with love. WATCH THE VIDEO
Gems That Make Life More Colorful
June 15th, 2016 | by Cheryl Kremkow|Dossier, Jane Taylor
Each of Jane Taylor's colorful jewels breaks new ground, with custom-cut gems of uncompromising quality in creative new designs that are instant classics. Here are four reasons why you'll love this collection.
THE STORY
The soul of a painter. The eye of a gemologist. The innovation of an engineer. Jane Taylor creates jewelry that's surprising, fun and incredibly comfortable to wear because every detail is carefully considered. Each of her collections breaks new ground, with custom-cut gems of uncompromising quality in creative new designs that are instant classics. Jane and her daughter Cleo are our role models for how to live more colorfully.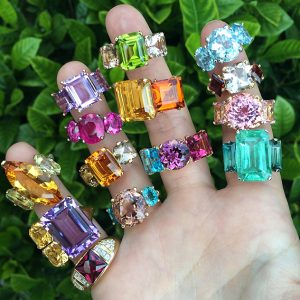 THE JEWELRY
We're currently obsessed with the new Cirque Collection, which plays with color and shape in a way that makes our eyes happy. The rings are as colorful as candy and just as irresistible too. Wear one or seven: you can't go wrong.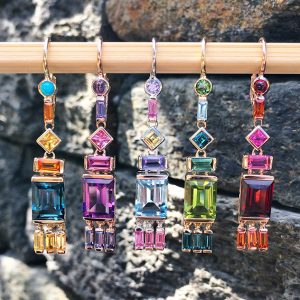 THE ICON
The must-have piece from the Cirque Collection is the Tassel earrings which come in a dizzying array of colors (sometimes all at once.) It's almost impossible to look at them without smiling.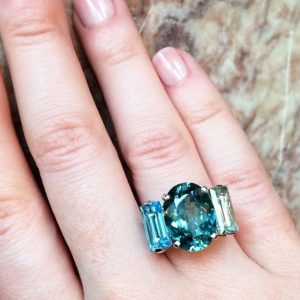 THE CLASSIC
There is nothing more timeless than a three-stone ring. But in Jane's hands, three colors combine into something sublime and unexpected. The Sword Swallower ring artfully juxtaposes a spectacular indicolite tourmaline with green quartz and blue topaz, evoking sea and sky and providing a mini Caribbean vacation for your eyes every time you look at it.