Renowned for her expertise in all things home design, the journalist and stylist Mieke ten Have, formerly of Vogue and Elle Décor, turns her editor's eye to the world of jewelry. Here, the writer, who contributes to such publications as the Wall Street Journal and British House & Garden, and the co-founder of Panier Home, shares her jewelry favorites – from the pieces she wears every day to her ultimate Memo picks.
What is exciting you at the moment in the home and design industry? I've been noticing a return to layers, color, history, and beautiful objects. Design went through a very long anemic period where neutrals and the purging of things were considered fresh and contemporary. I found it terribly boring. I think an appreciation for maximalism is reemerging.
Jewelry and home products both fall under the category of design objects. What relationship do you see between the two? A garment is predicated on how it is worn and how it fits on the subject, in many ways – I think jewelry and design pieces often exist with their own sense of integrity, regardless of the owner. There is a permanence and gravitas to both.
How would you describe your personal style (and what jewelry do you like to wear)? I tend to wear the same pieces day in and out – the four items I wear everyday are a chunky, hammered gold pink spinel ring from Elizabeth Locke, a gold arm band, and a long gold box chain with three pendants – a Roman coin I purchased in Jordan which I had mounted in gold, and two Florentine charms from the 50s, one depicting the god Mercury, the other a little basket of coral pomegranates. And, of course, my wedding ring, which is Edwardian.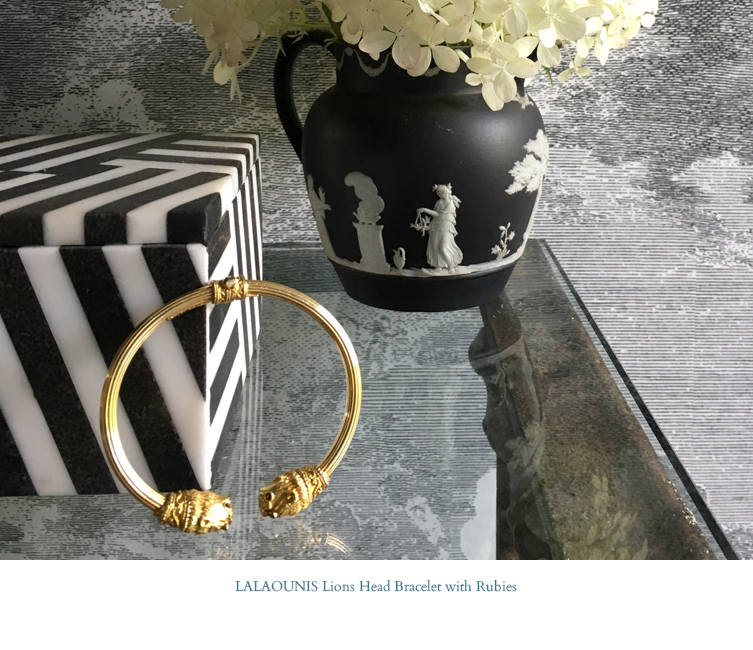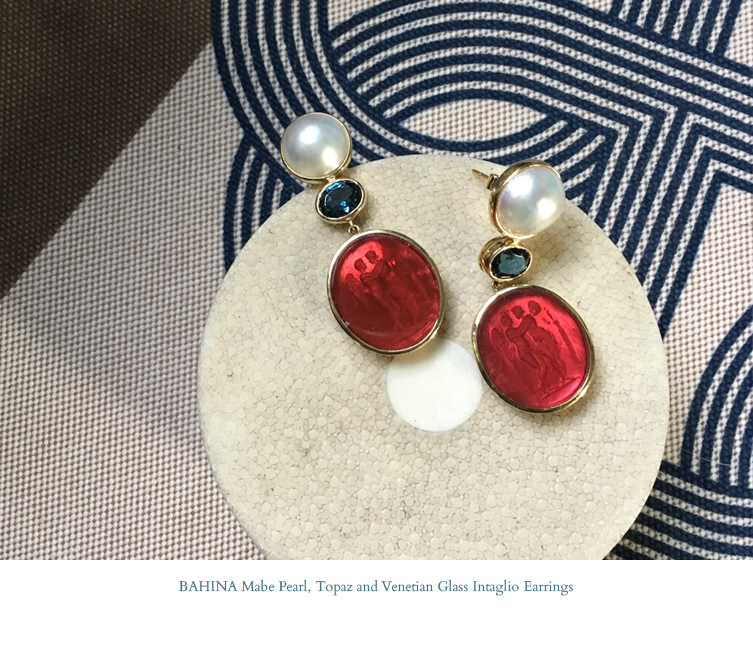 As a design and home editor, you have an expertly trained eye when it comes to objects and design. How did your "editor's eye" influence your jewelry selections on Memo? I can't separate my personal design sensibilities from my jewelry predilections. It didn't surprise me that I selected two Neoclassical styles on Memo, the Lalaounis Lions Head Bracelet and the Bahina Amethyst Iolite and Venetian Glass Cameo Earrings. Neoclassicism and some of its offshoots like Federal and Biedermeier are periods I really gravitate towards decoratively and in my own home. I also seem to always return to the sense of proportion in classical design. It is ultimately modern and impervious to trends because it speaks to the way our eyes see harmony.
Tell us about your overall Memo experience. It was a treat to have these treasures arrive at my door and to have an intimate moment with them. The Memo service offers a much more personal experience with jewelry.