Bahina
Tourmaline and Green Quartz Bracelet
This piece is currently out of stock. Please click the "Notify Me" button and we will email you once the item becomes available.
A selection of exotic gemstones in nature's finest hue punctuate this color-saturated bracelet. Handcrafted in Switzerland in 18K yellow gold with green tourmaline and green quartz. Measures 19cm/7.6 inches.
"This bracelet was inspired by the greenery theme of Pantone. The tourmalines are of the finest quality. They almost look like glass due to their clarity. The bracelet reminds me of pebbles in a quiet river." - Annick Jordi & Noëlle Vieillard-Jordi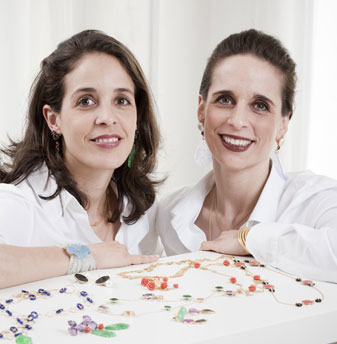 ANNICK JORDI & NOELLE VIELLARD-JORDI
Traipse the globe for refined yet vibrant jewelry and you'll uncover Bahina. Founded in 2007, the Swiss-based jewelry company merges the talents of its Founders, sister duo Annick Jordi and Noëlle Vieillard-Jordi, combining Annick's eye for fashion with Noëlle's gemstone expertise.
A love of unique, hand-cut gems, carefully sourced from Jaipur and Italy, sets the tone for the designer's confident use of color balanced with a timeless aesthetic and the highest-quality craftsmanship. Their collection of statement pieces also explores the integration of hand-carved Venetian glass intaglios, Porcellini shells, and flowers preserved in resin, all set in 18K gold.
Raised in Berne, Switzerland, the sisters' ambition lies in their vision for Bahina: creating happy jewelry that makes women feel good.
Flamboyant and fanciful, this colorful gem-laden bracelet makes us think of spring awakening. Pair it with white jeans or a white top for maximum effect.