Linda Hoj
The Sound of Inevitability Ring
Complimentary Home Try On
A talisman of power and strength, this ring features an elongated pear-shaped imperial topaz, which has the rarest color of all topaz with its salmon-colored hue. A wide hand hammered 22K gold band is adorned with large granules that look like champagne bubbles. 1.55 ctw imperial topaz.
Size 6.75.
"This ring has such special power. I felt the design needed to show the specialness of the Imperial Topaz which is known for bringing prosperity and abundance to the wearer and supports visualization, manifestation, creativity and generosity. This is amazing to me because the stone came my way through someone with a truly generous caring soul." - Linda Hoj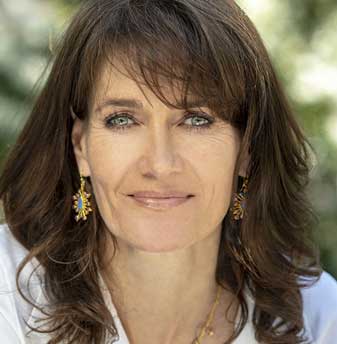 Linda has been designing for private clients most of her lifetime and only recently decided to formally launch her debut collection. She combines her training as an artist with her deep understanding of ancient jewelry making techniques to create one-of-a-kind, handmade, wearable art. Each piece as unique as the woman who wears it. Understated luxury and old-world sparkle comes through in her designs and chosen materials. Linda seeks out stones which are cut as they were centuries ago and prefers when the high karat gold she uses bears the hallmarks and glow of everyday wear. Her soulful collection exudes an organic elegance that is perfect for the modern woman.
We're drawn to the power of this amazing imperial topaz center stone, which is known for bringing prosperity and abundance to the wearer. The designer's brilliant placement of gold granulation further accentuates the shape and strength of the stone.