Samira 13
Tahitian Pearl Strand with Diamond Labradorite Onyx Tassel
Complimentary Home Try On
ONE OF A KIND
This dramatic one of a kind pearl necklace features a strand of luminous and rare Tahitian pearls embellished with spectacular diamond links and a tassel of labradorite and onyx gemstones. 3.44 ctw diamonds. Measures 23.5 inches including a 3.5 inch tassel.
"When it comes to pearls, I love the organic beauty, the perfection of their imperfection. I am also fascinated by the many myths and spiritual attributes associated with pearls, across cultures and throughout history." - Samira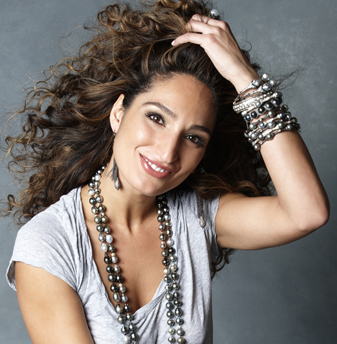 SAMIRA 13
Samira Sizdahkani discovered her passion for Tahitian pearls nearly a decade ago while working as a stylist in Los Angeles. Born into the fashion business, Samira grew up in Washington, D.C., where she spent hours playing in the workroom of her mother's designer fashion and jewelry store. She credits her upbringing with honing her eye for design. Samira 13 is renowned for its edgy and inventive approach to pearls. Whether studding pearls with gemstones or pairing them with unlikely materials such as leather, skulls or fringe, Samira 13 has reimagined this classic gemstone, ushering it into the 21st century.
We love how modern Samira 13's pearl creations are. This dazzling necklace is a 21st century update of the classic pearl strand that looks great paired with jeans or a dress.