Barbara Heinrich
Step Circle Pendant Necklace
Complimentary Home Try On
A Greco-Roman inspired medallion with features intricate gold beadwork surrounding a center round-cut diamond and a single small diamond atop. Handcrafted in New York. 18K gold. 17 inch chain. 0.38 ctw center diamond. 0.05 ctw diamond at top.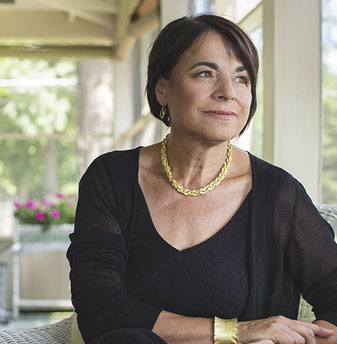 BARBARA HEINRICH
A classically trained goldsmith from Germany, Barbara Heinrich grew up on a European vineyard that her family has owned since 1545. Now one of the leading figures in American studio jewelry and president of the American Jewelry Design Council, Barbara Heinrich creates jewelry that is timeless yet as individual as a fingerprint. Her work is fabricated by hand, one piece at a time, with signature textures created with tools she makes herself. Her work has been awarded the Couture gold award, been featured in exhibitions and published in books including Masters: Gold: Major Works by Leading Artists and Brilliance! Masterpieces by American Jewelry Design Council.


We love the bold yet finely detailed design of this necklace that can be worn beautifully alone or with other necklaces.