Complimentary Home Try On
ONE OF A KIND
This spectacular one of a kind ring features two pear shaped rubellite stones surrounded by golden beads offering endless character and beauty. Handcrafted in 22K gold. Pear shaped Rubellite 1.4 6 cttw size 7.25.
"Sentinel was inspired by snakes, I wanted them to coil around the finger. As I was making them they reminded me of the crawler ships in The Matrix called sentinels. A sentinel is also a soldier whose job it is to keep watch and protect. " — Linda Hoj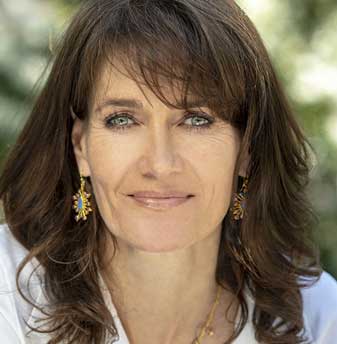 Linda has been designing for private clients most of her lifetime and only recently decided to formally launch her debut collection. She combines her training as an artist with her deep understanding of ancient jewelry making techniques to create one-of-a-kind, handmade, wearable art. Each piece as unique as the woman who wears it. Understated luxury and old-world sparkle comes through in her designs and chosen materials. Linda seeks out stones which are cut as they were centuries ago and prefers when the high karat gold she uses bears the hallmarks and glow of everyday wear. Her soulful collection exudes an organic elegance that is perfect for the modern woman.
We love the unexpected pops of color surrounded by rich 22K golden bead spikes that wrap the finger so elegantly. Dressed up or down, this is a ring to bring beauty to you every day.