Diane Dorsey
Sapphire Calyx Necklace
This piece is currently out of stock. Please click the "Notify Me" button and we will email you once the item becomes available.
Hand-carved in 18K matte yellow gold, this artful necklace features one of the designer's favorite motifs, a rose's calyx. Here seven calyxes, each centered with a natural blue sapphire, embellish an 18K yellow gold chain. Calyxes measures 5/8" each. Chain measures 17.5".
"I call my jewelry sculpted adornment. Each piece is like a miniature sculpture." - Diane Dorsey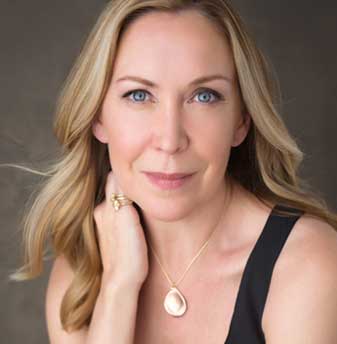 THE DESIGNER
A formally trained artist who holds degrees in architecture, painting and education, Diane Dorsey discovered her true passion for jewelry design after relocating from Ohio to Santa Fe, where she trained with master silversmiths and goldsmiths. Today, she lives with her jazz musician husband, in Los Olivos, California, where she hand-carves each of her nature-inspired designs.
Diane carves every millimeter of her pieces by hand. We love how she takes an overlooked feature of the rose and transforms it into a stunning work of art. Wear this piece with a low neckline or a turtleneck for maximum impact.