Bahina
Rock Crystal, Black Onyx and Blue Topaz Earrings
Complimentary Home Try On
ONE OF A KIND
Art Deco meets 21st century in these ultra chic rock crystal, black onyx and blue topaz earrings, which draw inspiration from one of design's most celebrated periods. Handcrafted in 18K yellow gold. Measures 1.4" long.
"We love the clean shape of that period but wanted to give it a more modern twist yet styling with the typical elements of that period: black onyx and rock crystal." - Annick Jordi & Noëlle Vieillard-Jordi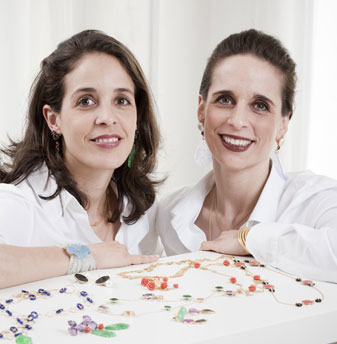 ANNICK JORDI & NOELLE VIELLARD-JORDI
Traipse the globe for refined yet vibrant jewelry and you'll uncover Bahina. Founded in 2007, the Swiss-based jewelry company merges the talents of its Founders, sister duo Annick Jordi and Noëlle Vieillard-Jordi, combining Annick's eye for fashion with Noëlle's gemstone expertise.
A love of unique, hand-cut gems, carefully sourced from Jaipur and Italy, sets the tone for the designer's confident use of color balanced with a timeless aesthetic and the highest-quality craftsmanship. Their collection of statement pieces also explores the integration of hand-carved Venetian glass intaglios, Porcellini shells, and flowers preserved in resin, all set in 18K gold.
Raised in Berne, Switzerland, the sisters' ambition lies in their vision for Bahina: creating happy jewelry that makes women feel good.
We love how the circular onyx and blue topaz soften the rock crystal's square angles, striking a masculine-feminine balance. An easy neutral, rock crystal illuminates everything you pair it with.