Barbara Heinrich
Oval Cuff
Complimentary Home Try On
ONE OF A KIND
A series of interlocking ovals in the designer's signature yellow gold matte form this bold one-of-a-kind cuff. Thirty-five scattered bezel-set diamonds (.95 carats) placed at random add dazzle and a sense of whimsy. Handcrafted in 18K yellow gold.
"I love putting diamonds in irregular patterns around edges and rims, like little shells that attach in nature. It's rhythmic like jazz music to me: 1, 2, 3, space, 1, 2, space, 1. You can almost count it out." - Barbara Heinrich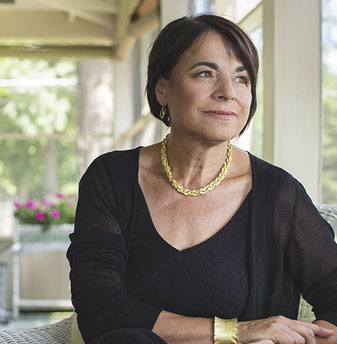 BARBARA HEINRICH
A classically trained goldsmith from Germany, Barbara Heinrich grew up on a European vineyard that her family has owned since 1545. Now one of the leading figures in American studio jewelry and president of the American Jewelry Design Council, Barbara Heinrich creates jewelry that is timeless yet as individual as a fingerprint. Her work is fabricated by hand, one piece at a time, with signature textures created with tools she makes herself. Her work has been awarded the Couture gold award, been featured in exhibitions and published in books including Masters: Gold: Major Works by Leading Artists and Brilliance! Masterpieces by American Jewelry Design Council.


Geometric, dramatic and a playful, this oval cuff, flecked with diamonds, is a true showstopper. We feel like Wonder Woman just slipping it on.