Meredith Kahn
MK Stevie Wrap
Complimentary Home Try On
Designed as a bracelet or a necklace, the MK Stone Wrap is bound to be one of the most versatile pieces in your jewelry box. Wrap it around your wrist for edgy glamour. For added drama, style it as a choker, one of the season's top trends. 14k yellow gold 3 Chevron Barson a faux suede purple cord.
"A little pop of Gold is something that I always crave even when Im casual, which is most of the time. I love the way these little bars light up my wrist to create the most subtle and elegant accent to my standard Jeans and T-shirt uniform!" - Meredith Kahn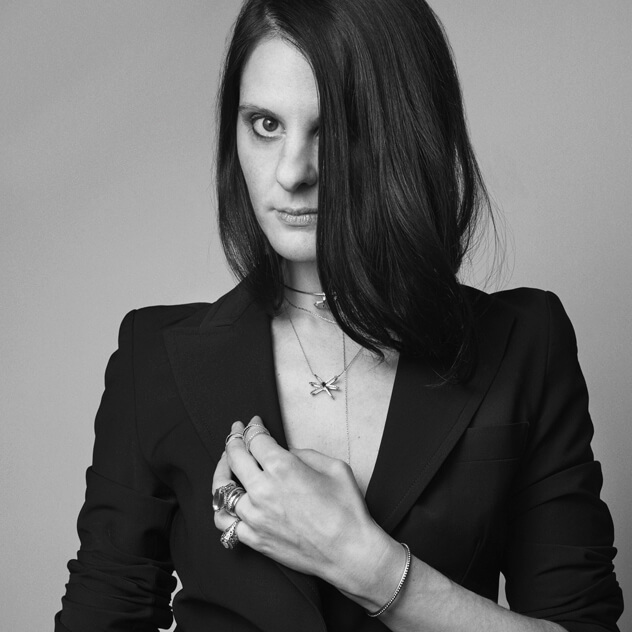 MEREDITH KAHN
Meredith Kahn draws delicate lines of diamonds to wrap around your hands, ears, wrists and neck as if they have always been there. After launching Made Her Think (an anagram of her name) over 10 years ago, Meredith has stepped out from behind her anagram to design her namesake collection. Every Meredith Kahn piece is designed with the idea that life is ever changing and always evolving. Her jewelry is made to become part of you, to layer and stack and hold on to forever. Every piece is manufactured with care in New York City.
We love the fresh bright color of purple. The edgy, gold triangle charm flecked with black diamonds only ups the cool quotient. Jewelry that transforms is hard to come by. This bracelet-cum-choker promises to be your favorite go-to piece.