Jane Taylor
London Blue Topaz Vertical Bar Necklace
Complimentary Home Try On
The elegantly elongated proportions of the custom cut baguette gem in this necklace are a Jane Taylor signature. The rich teal of a dramatic London blue topaz is magnified by a frame of intense blue diamond accents. Crafted in ruthenium plated 14k white gold. The 18-inch chain also adjusts to 16 inches.
"I love the elongated shape of this baguette. I think extremes are always interesting: a long shape like the baguette elongated even more. I always love to push the boundaries. Like notes in music, you can push them a little." – Jane Taylor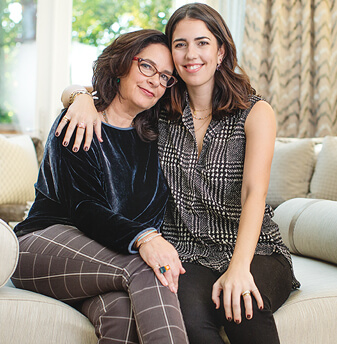 JANE & CLEO OF JANE TAYLOR
The palette of a painter. The eye of a gemologist. The innovation of an engineer. Jane Taylor creates jewelry that's surprising, fun and incredibly comfortable to wear. Each of her colorful collections breaks new ground, with custom-cut gems of uncompromising quality in creative new designs that are instant classics. Inheriting a love of jewelry from her grandmother and the collector's eye of her father, Jane has been designing jewelry since she left art school at the age of 19. Her daughter Cleo joined the business in 2010. Together they produce a "totally everyday" collection of modern heirlooms you may never take off.
The long baguette in this necklace just grabs the light like a prism. And the intense teal of the blue topaz and blue diamonds is like the Mediterranean Sea: we just want to dive right in.