Meredith Kahn
Golden Thread Rock Necklace
This piece is currently out of stock. Please click the "Notify Me" button and we will email you once the item becomes available.
This necklace is a whisper of gold, like a piece of "Golden Thread" that sits neatly around your neck. There is an adjustable chain at the back to wear tightly across your neck as a "choker" or sweetly at the base of your neck. The Golden Rutilated Quartz slides freely, but securely on the wire. In 14k yelow gold with one-of-a-kind Golden Rutilated Quartz. Adjustable from 12"-14".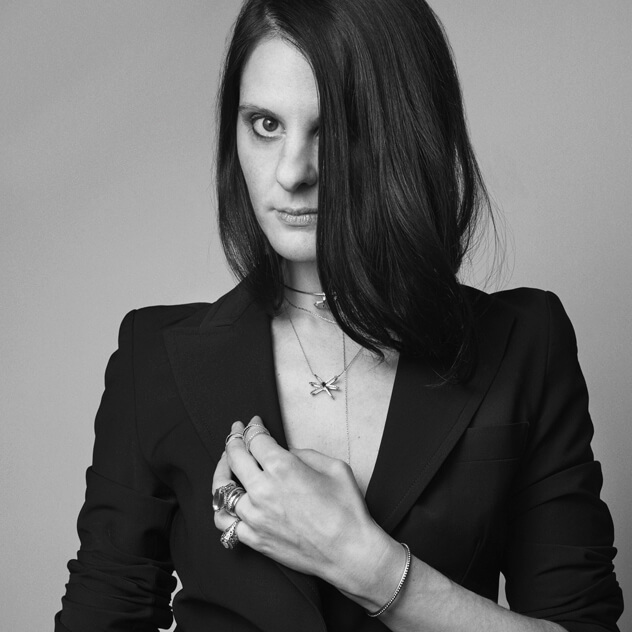 MEREDITH KAHN
Meredith Kahn draws delicate lines of diamonds to wrap around your hands, ears, wrists and neck as if they have always been there. After launching Made Her Think (an anagram of her name) over 10 years ago, Meredith has stepped out from behind her anagram to design her namesake collection. Every Meredith Kahn piece is designed with the idea that life is ever changing and always evolving. Her jewelry is made to become part of you, to layer and stack and hold on to forever. Every piece is manufactured with care in New York City.
Adjustable to wear either tight or a little looser around your neck we love how this choker perfectly flatters the neckline. The choker made a return to the runway this spring, and this chunky quartz adds a touch of glamour to a cocktail dress or a T-shirt.
YOU MAY ALSO LIKE