Samira 13
Diamond and Pearl Hoop Earrings
This piece is currently out of stock. Please click the "Notify Me" button and we will email you once the item becomes available.
An artfully suspended Australian South Sea pearl gives these classic pave diamond hoops a futuristic, otherworldly vibe. Handcrafted in 18K white gold. 0.3 ctw diamonds. Measures ¾" diameter.
"A minimalist expression of nature's cycles using spheres and circles. They're elegant, modern classics."- Samira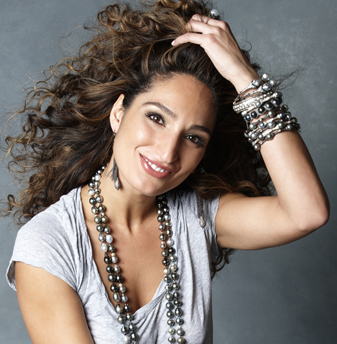 SAMIRA 13
Samira Sizdahkani discovered her passion for Tahitian pearls nearly a decade ago while working as a stylist in Los Angeles. Born into the fashion business, Samira grew up in Washington, D.C., where she spent hours playing in the workroom of her mother's designer fashion and jewelry store. She credits her upbringing with honing her eye for design. Samira 13 is renowned for its edgy and inventive approach to pearls. Whether studding pearls with gemstones or pairing them with unlikely materials such as leather, skulls or fringe, Samira 13 has reimagined this classic gemstone, ushering it into the 21st century.
A perfect example of Samira 13's whimsical take on pearls: this orb-like design exudes a sophisticated glamour—and they're unlike any hoop earring we've ever seen.