Pippa Small
Baby Navaratna Bracelet
This piece is currently out of stock. Please click the "Notify Me" button and we will email you once the item becomes available.
"Navaratna," which means "nine gems" in Sanskrit, represents the nine planets of our solar system and is a symbol of good luck in Asia. A sacred talisman in a number of religions including Buddhism and Hinduism, this bracelet combines a rainbow of mixed gemstones, meant to empower the wearer based on planetary activity. Handcrafted in 18k yellow gold in Rajasthan, India.
"The navaratna is an ancient Asian amulet found all over south and southeast Asia that represents the Vedic belief that gemstones are related to the nine (then-known) planets. Depending on where the stars are positioned at the time of your birth will depend how these planets and gems influence your life. The idea of wearing the gems next to your skin will positively influence the planets' influence." - Pippa Small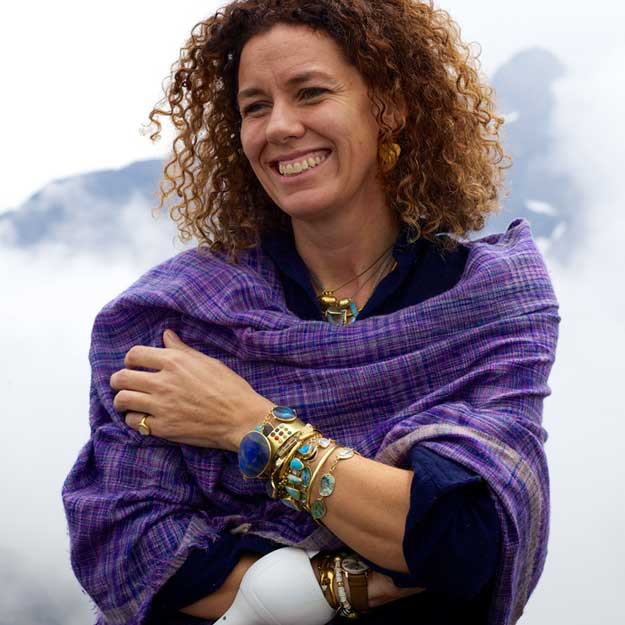 PIPPA SMALL
Human rights activist, anthropologist, humanitarian—Pippa Small is a true polymath. The London-based jewelry designer has been putting her own stamp on the jewelry industry since she began designing her bohemian, gem-laden creations 20 years ago. Pippa originally trained as an anthropologist, living with indigenous tribes such as the Kalahari Bushmen. A knack for designing jewelry led her to pursue an alternate career. Pippa now has two boutiques, one in London and one in Los Angeles and combines her passions for jewelry and humanitarian work through her work with Survival International and Turquoise Mountain, training craftsmen in war-ravaged locations such as Kabul to help restore their heritage of artisanship. In 2013, Queen Elizabeth II awarded her the MBE (Member of the Most Excellent Order of the British Empire) for raising awareness of ethical jewelry practices around the world.
We're all for a talisman that delivers the benefits of fame, wealth, health, happiness and prosperity. Added bonus: the bracelet is gorgeous, supremely delicate and layers easily with everything in your jewelry box. It's the perfect gift for someone you love (or for yourself).