Judi Powers
Arun Sawad Necklace
Complimentary Home Try On
The smooth water-worn shape of this necklace is a Judi Powers signature. You'll reach up to touch it: the shape is soothing under your fingers. The pendant has a lovely soft cashmere finish and the subtle sparkle of a rose cut diamond surrounded by a constellation of eight rich mocha-colored diamonds. Crafted in Brooklyn in recycled 14k gold and diamonds on a 20-inch chain.
"Many years ago while I was traveling in Thailand I fell in love with a riverside temple called Wat Arun, or temple of the dawn. As the sun was rising over this beautiful and sacred place, there was a warm golden glow in the sky. The colors of the diamonds with the gold remind me so much of that special place and I've named this necklace in its honor. Arun Sawad means good morning."
– Judi Powers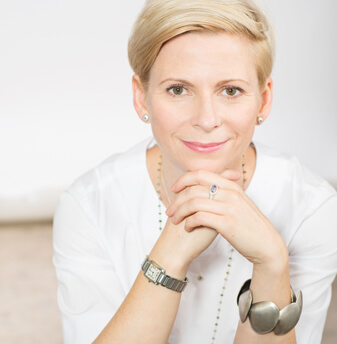 JUDI POWERS
Sculptural gold. Organic forms. Satiny surfaces. Every Judi Powers piece is shaped by her hands so its not surprising how much they call out for your touch, like a worry stone you reach for in your pocket. After a career in book publishing, Judi began again as a jeweler, starting at the bench as a metalsmith and then studying design. She obviously made the right decision: she was recently named a Rising Star at the jewelry industry's biggest tradeshow. All of her pieces are made with recycled metals and ethical gems. As you might expect from someone who loves books as much as she does, every piece tells a story in metals and gems.
The soft gleam of this pendant is mesmerizing. If you collect pebbles at the beach, you'll instantly understand the appeal of the smooth shape.