Bahina
Aquamarine, Iolite and Fluorite Earrings
This piece is currently out of stock. Please click the "Notify Me" button and we will email you once the item becomes available.
Hand-cut gemstones, selected by the designer in Jaipur, give this one-of-a-kind three-stone earring an exotic sensibility. The cool blue hues of aquamarine and iolite complement the verdant green striations of fluorite. Handcrafted in 18k gold in Jaipur. Measures 5cm/ 2".
"We love the diagonal lines in the fluorite that go from green to purple. We were inspired this year by the Pantone color Greenery and did a lot of designs in those green tones." - Annick Jordi & Noëlle Vieillard-Jordi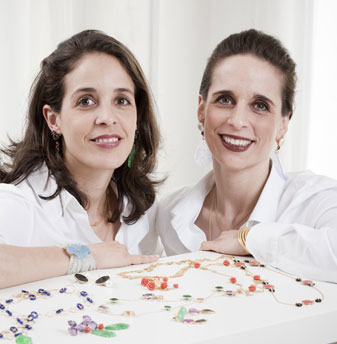 ANNICK JORDI & NOELLE VIELLARD-JORDI
Traipse the globe for refined yet vibrant jewelry and you'll uncover Bahina. Founded in 2007, the Swiss-based jewelry company merges the talents of its Founders, sister duo Annick Jordi and Noëlle Vieillard-Jordi, combining Annick's eye for fashion with Noëlle's gemstone expertise.
A love of unique, hand-cut gems, carefully sourced from Jaipur and Italy, sets the tone for the designer's confident use of color balanced with a timeless aesthetic and the highest-quality craftsmanship. Their collection of statement pieces also explores the integration of hand-carved Venetian glass intaglios, Porcellini shells, and flowers preserved in resin, all set in 18K gold.
Raised in Berne, Switzerland, the sisters' ambition lies in their vision for Bahina: creating happy jewelry that makes women feel good.
Behold blue in all its glory. These bold statement earrings are the ultimate accessory for any "blue" lover. Pair them with a cocktail dress or evening gown with upswept hair for a dramatic entrance.