Bahina
Amazonite, Black Onyx and Blue Topaz Earrings
Complimentary Home Try On
Marine-hued blues reign in these dramatic and exotic three-stone earrings featuring striated oval-cut amazonite stones linked by blue topaz rimmed in black onyx. Handcrafted in 18K yellow gold. Measures 2.8".
"We've been using amazonite for a while now because it looks similar to turquoise but is not as expensive. It's the first time that we could find these striped, hand-cut amazonite stones, and we just thought they are fun and very summery." - Annick Jordi & Noëlle Vieillard-Jordi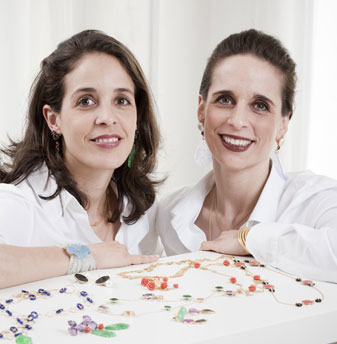 ANNICK JORDI & NOELLE VIELLARD-JORDI
Traipse the globe for refined yet vibrant jewelry and you'll uncover Bahina. Founded in 2007, the Swiss-based jewelry company merges the talents of its Founders, sister duo Annick Jordi and Noëlle Vieillard-Jordi, combining Annick's eye for fashion with Noëlle's gemstone expertise.
A love of unique, hand-cut gems, carefully sourced from Jaipur and Italy, sets the tone for the designer's confident use of color balanced with a timeless aesthetic and the highest-quality craftsmanship. Their collection of statement pieces also explores the integration of hand-carved Venetian glass intaglios, Porcellini shells, and flowers preserved in resin, all set in 18K gold.
Raised in Berne, Switzerland, the sisters' ambition lies in their vision for Bahina: creating happy jewelry that makes women feel good.
Fresh and colorful, these dramatic statement earrings exude a glamorous seaside appeal. The aquatic-inspired hues make us want to pack them for our next beach holiday.