Danielle Rollins: THE STYLE STANDARD
August 25th, 2018 | by Anne Sheehan|Bahina, Danielle Rollins, Lalaounis, Loren Nicole, Pippa Small
From Danielle Rollins' blog:
There is nothing better than having the perfect jewelry to go with a fabulous outfit!! Perfect combinations of color and metal make my looks complete!
THE DOT TUNIC IN NAVY 4PLY SILK
The Dot Tunic is a fantastic option to liven up any outfit. Luxurious silk hangs in just the right places and with an obi sash to tie at the waist, this top will give you the effortless silhouette you have been looking for. This intricately crafted garment will only be available for a short time in a limited edition floral.
DANIELLE ROLLINS – Dot Tunic Top in Navy Silk
SELECTED JEWELRY BY LALAOUNIS
Founded by fourth-generation jeweler Ilias Lalaounis in the 1960s, the company revived ancient Greek goldsmithing techniques, creating modern jewelry inspired by the country's rich archeological heritage. Following in the footsteps of their father, today the four Lalaounis sisters – Aikaterini, Demetra, Maria and Ioanna – are transforming five generations of tradition into wearable jewelry for modern women. Worn by style icons from Jacqueline Kennedy Onassis and Elizabeth Taylor yesterday to Scarlett Johansson and Charlize Theron today, the company's designs are also exhibited in the Ilias Lalaounis Jewelry Museum in Athens.
Blue Leather Shagreen Cuff – An 18K gold hand hammered motif with a pave diamond-lined center adds a bold visual element. Measures 2 1/4" in diameter and 2" wide.
Byzantine Bracelet with Diamonds features an 18K gold interlocking bracelet adorned with a single diamond at each end. Beautiful worn alone or stacked with other bracelets or cuffs.
SELECTED JEWELRY BY LOREN NICOLE
Loren Nicole began her career in archaeology working on numerous digs in Central and South America researching ancient civilizations of northern Peru and then as a conservator for ancient and ethnographic textiles at the Metropolitan Museum of Art (Met) in New York City. It was there where what began as a curiosity to better understand objects of the past, developed into a passion for ancient metalsmithing that ultimately eclipsed her academic interests and resulted in the launch of her inaugural collection in Summer 2016.
Nomad Earrings – These richly textured 22K gold earrings from the Silla Collection are inspired by art forms from the ancient Korean kingdom of Silla and handmade in California.
~~~~~~~~~~~~~~~~~~~~
THE GLORIA
The Gloria is one of our best-selling tops because it is breezy and chic, and goes with everything!  This is a blouse that can be tucked in or left out, can be worn casually or dress, with skirts or with pants, and always looks polished. The v-neck front is very flattering and will compliment any figure.
SELECTED JEWELRY BY BAHINA
Bahina Founders, sister duo Annick Jordi and Noëlle Vieillard-Jordi, combining Annick's eye for fashion with Noëlle's gemstone expertise.  Their collection of statement pieces explore the integration of hand-carved Venetian glass intaglios, Porcellini shells, and flowers preserved in resin, all set in 18K gold.
Real Rose, Sapphire and Garnet Earrings – A resin-preserved rose and a hand-carved sapphire add an enchanting flourish to this sweet design, which also incorporates elegant garnets.
Tourmaline and Green Quartz Bracelet – A selection of exotic gemstones in nature's finest hue punctuate this color-saturated bracelet. Handcrafted in Switzerland in 18K yellow gold with green tourmaline and green quartz.
~~~~~~~~~~~~~~~~~~~~~~~
THE DOROTHY DRESS
Introducing the Dorothy Hostess Dress!  The perfect dress that can be worn with flats and heels to go from day to night or casual to dressy! Comes with the obi sash that can be tied in multiple ways to make the dress the most flattering for you. Made with the perfect amount of structure to highlight the parts you like to show and conceal the parts you don't.
DANIELLE ROLLINS – Liberty Archive Lilac
SELECTED JEWELRY BY PIPPA SMALL
Human rights activist, anthropologist, humanitarian—Pippa Small is a true polymath. The London-based jewelry designer has been putting her own stamp on the jewelry industry since she began designing her bohemian, gem-laden creations 20 years ago.
Two Row Colette Set Earrings – An iridescent waterfall of semi-precious blue-hued stones cascade down the ear in these bohemian, gem-laden danglers. Featuring tanzanite, aquamarine and kyanite, no two earrings are exactly alike.
~~~~~~~~~~~~~~~~~~~~~~~~~
Seeing Green
January 9th, 2017 | by Alison Burwell|Barbara Heinrich, Dana Bronfman, Jane Taylor, Nicole Landaw, Pippa Small
Metaphorically, we've all been 'going green' for years. However, 2017 is shaping up to be the year we literally go green if the Pantone Color Institute has anything to say about it. The color authority recently crowned Greenery, aka Pantone 15-0343, the official hue of 2017.
"Greenery symbolizes the reconnection we seek with nature, one another and a larger purpose," says Leatrice Eiseman, Pantone's executive director. This particular hue, which calls to mind a tall glass of fresh-pressed green juice, is a "zesty, yellow-green shade that evokes the first days of spring when nature's green, revive, restore and renew" according to Pantone.
The fashion world is heeding Greenery's rejuvenating call. The cheery color dominated the spring runways, popping up at Michael Kors, Balenciaga, Gucci and Emilio Pucci to name a few.
"Nature's neutral," as Pantone deems the color, also reflects our global desire to reconnect with nature and promote environmentally safe practices in architecture, lifestyle and design. Many jewelry designers have incorporated this "green" ethos, relying on recycled material and ethically sourced gemstones.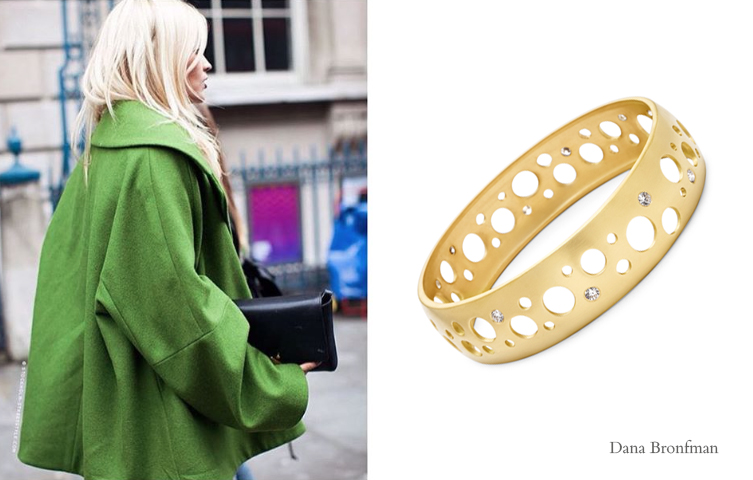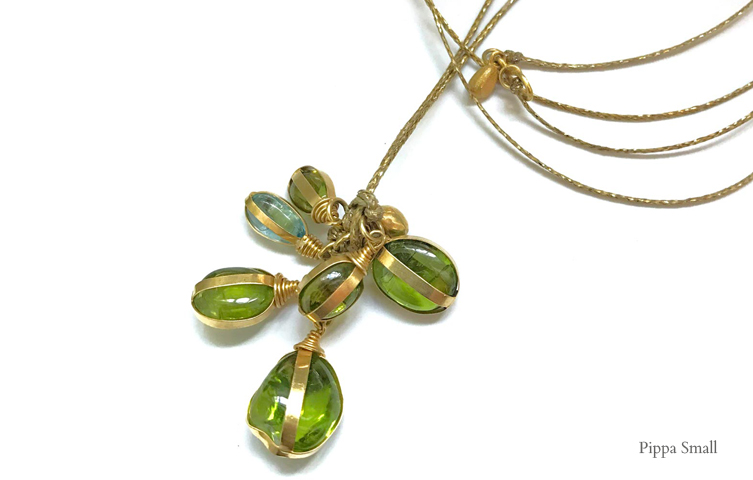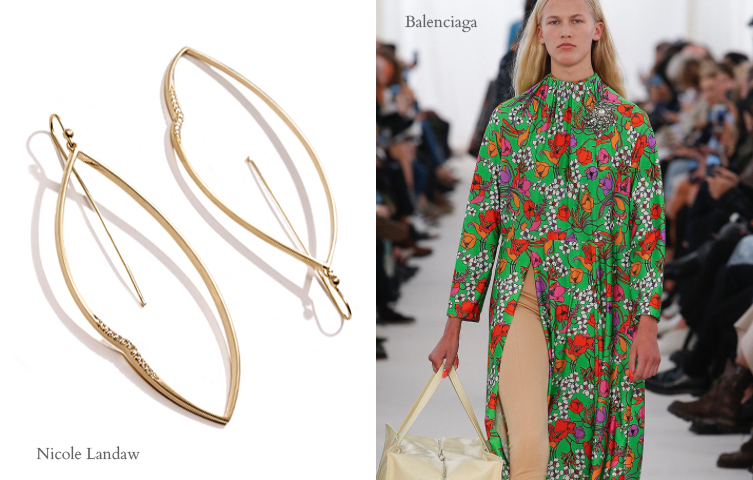 photo: Balenciaga Spring/Summer 2017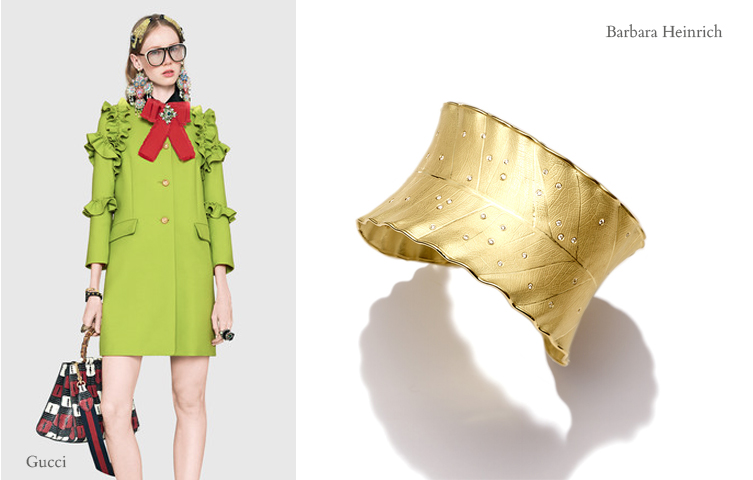 photo: Gucci Cruise 2017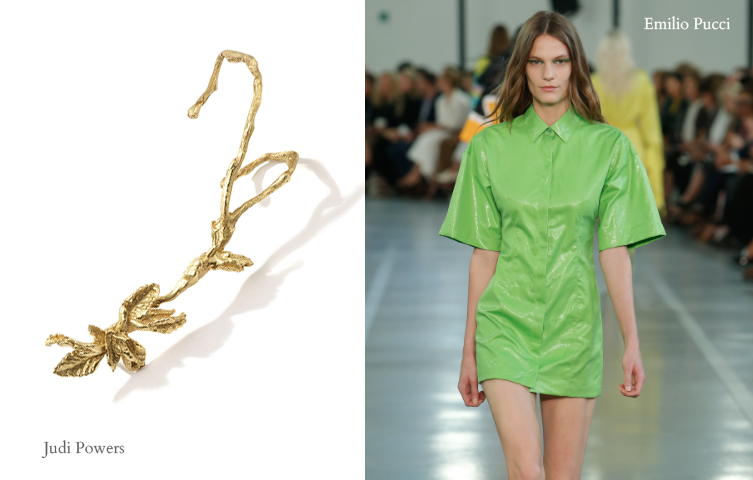 photo: Emilio Pucci Spring Summer 2017 Ready to Wear
Whether this year's color draws you to the handmade organic materials of Pippa Small, Judi Powers and Dana Bronfman, to themes of nature like Barbara Heinrich or Nicole Landaw, or to the color green itself, 2017 promises to be a refreshing year of new beginnings.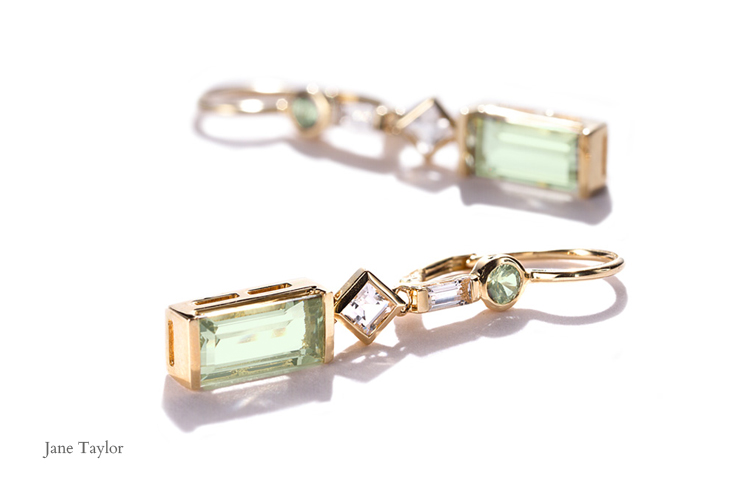 Tourmaline: Gem of Many Colors
October 13th, 2016 | by Cheryl Kremkow|Gems, Jane Taylor, Judi Powers, Pippa Small, Tourmaline
Red. Blue. Green. Pink. All of the above. Tourmaline is the world's most colorful gem variety. There's tourmaline in your favorite color, no matter what color that is.
Cranberry red, hot magenta, bubblegum pink, peach and orange, canary yellow, mint, grass and forest green, ocean blue, electric teal, violet, and even bicolor pink and green stones: tourmaline is all these and more.
This colorful gem is literally electric too. Tourmaline acquires a charge when heated. The Dutch masters used it to clean tobacco ash from their pipes. It's also piezoelectric: squeezing a crystal produces a charge. This property has made tourmaline popular in skin cream to help pull impurities from your skin.
At the beginning of the twentieth century, California was the world's top source for tourmaline, producing 120 tons of rough. Much of it was exported to China where the Last Empress, Cixi, was an avid pink tourmaline collector. Most tourmaline today is mined in Brazil, Afghanistan, Mozambique, Nigeria and Madagascar.
If you're born in October, Tourmaline is your birthstone, along with opal, so you have the perfect excuse to wear this colorful gem. (We've never needed an excuse ourselves.)
Said to have the power to enhance creativity and intuition, tourmaline's colorful palette of bright and muted tones definitely inspires designers to create jewelry to suit every style.
Pippa Small creates pink and green tourmaline flowers and sea creatures. Jane Taylor mixes tourmaline tones with a painter's eye. And Judi Powers links slender natural tourmaline crystals to create irresistible necklaces. Here are a few of our favorite tourmaline designs to make your day more colorful.
Jane Taylor Sword Swallower Ring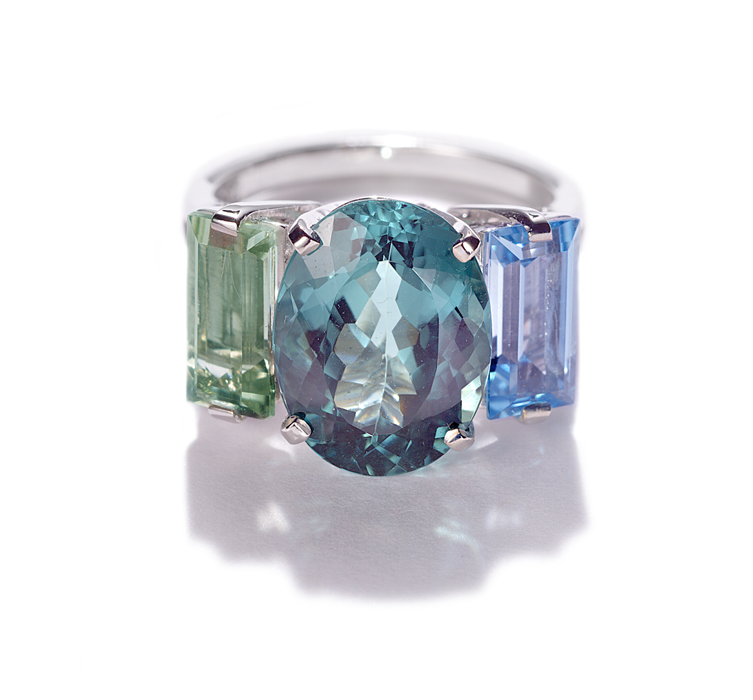 Judi Powers Tourmaline Crystal Necklace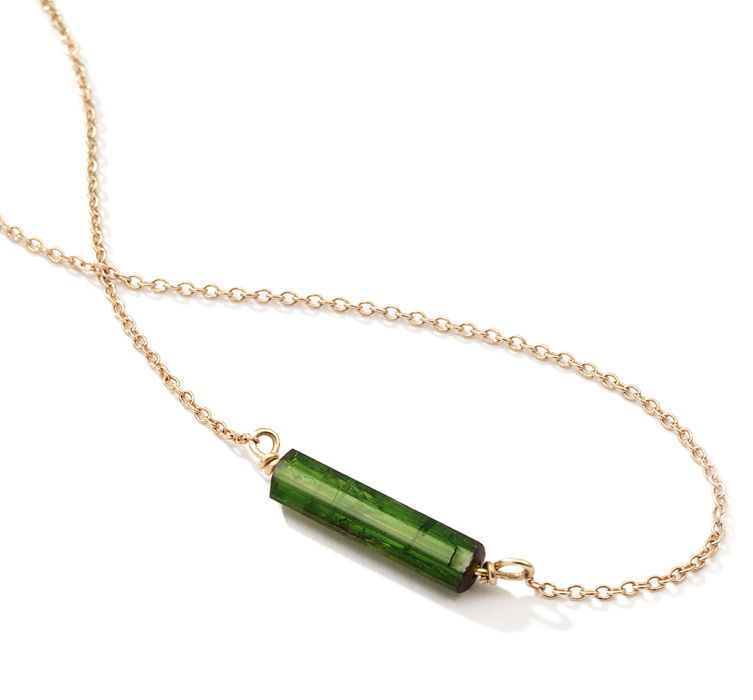 Pippa Small Green Tourmaline Sea Urchin Earrings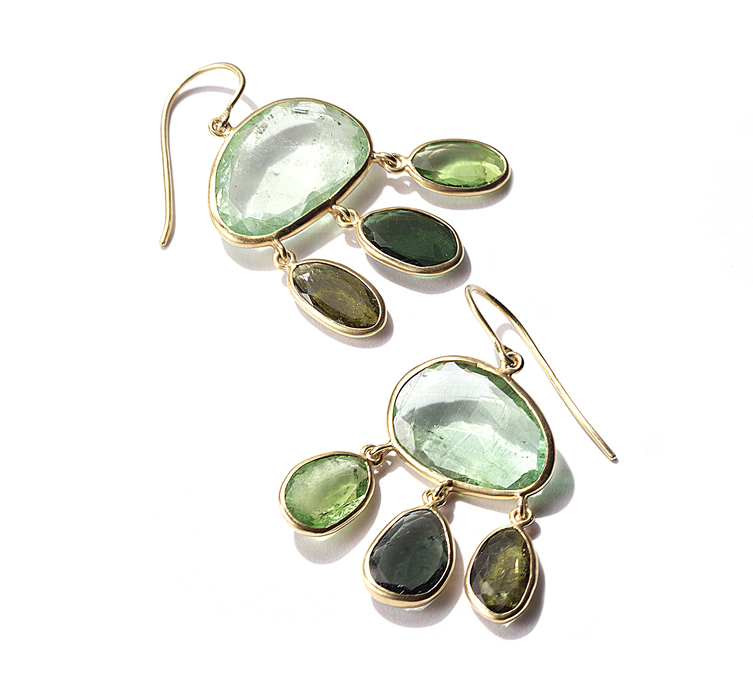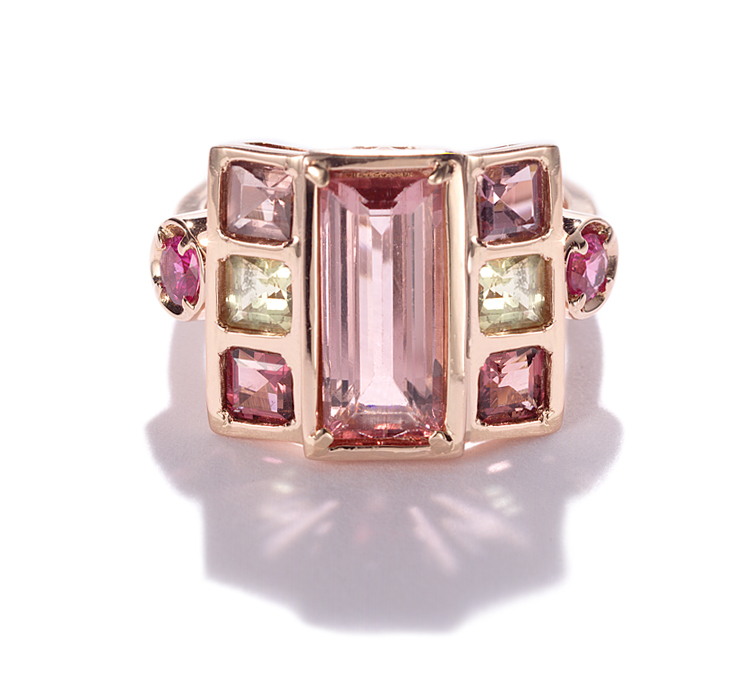 Judi Powers Tourmaline Crystal Sautoir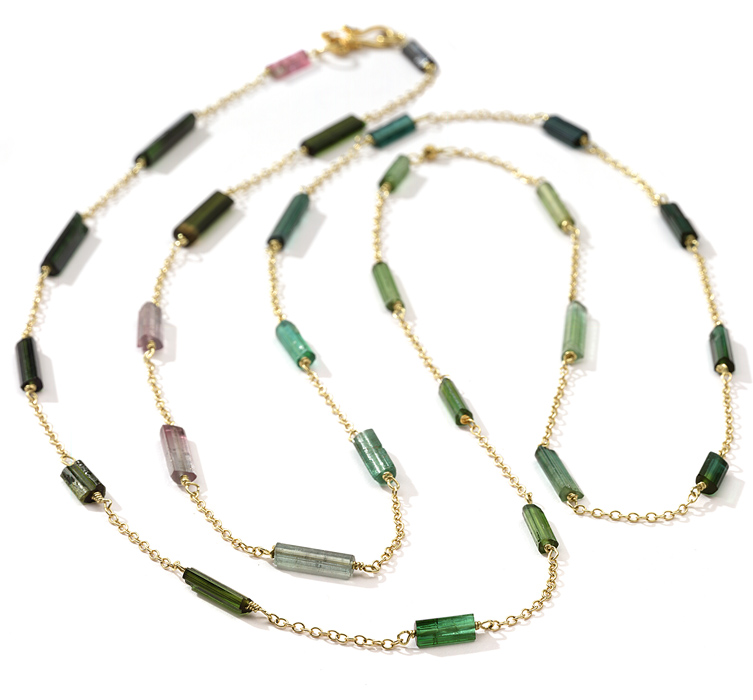 Pippa Small Pink Tourmaline Double Flower Earrings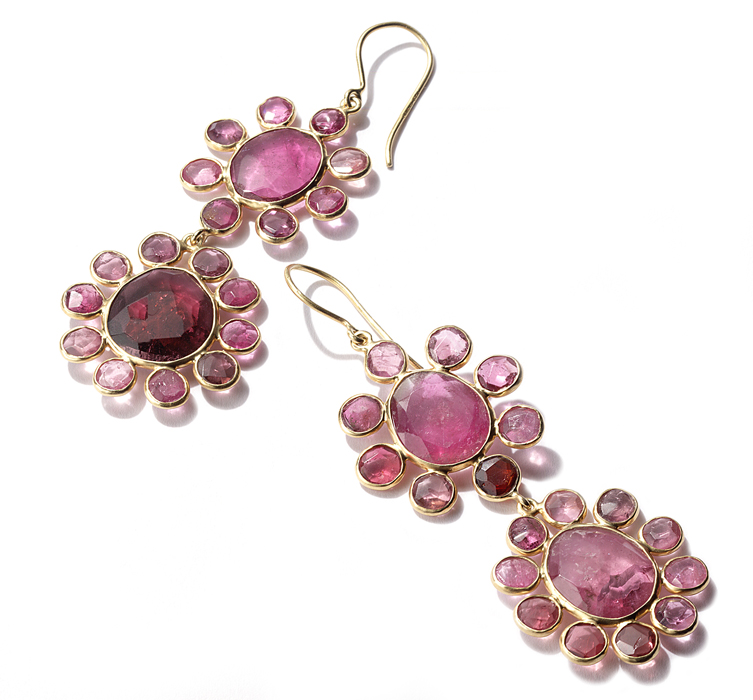 Open Season
September 26th, 2016 | by Cheryl Kremkow|Ileana Makri, Jewelry Trends, Lalaounis, Nicole Landaw, rings
The newest ring silhouette is an open secret: rings with open space in the center where you might expect a gem to be.
These cuff rings are particularly fun to stack and combine with more conventional ring styles. Try one on Memo to see how it works with other rings in your wardrobe: you'll find it inspires new combinations and layers.
Here are a few of our favorite cuff rings to inspire your future adventures in ring stacking.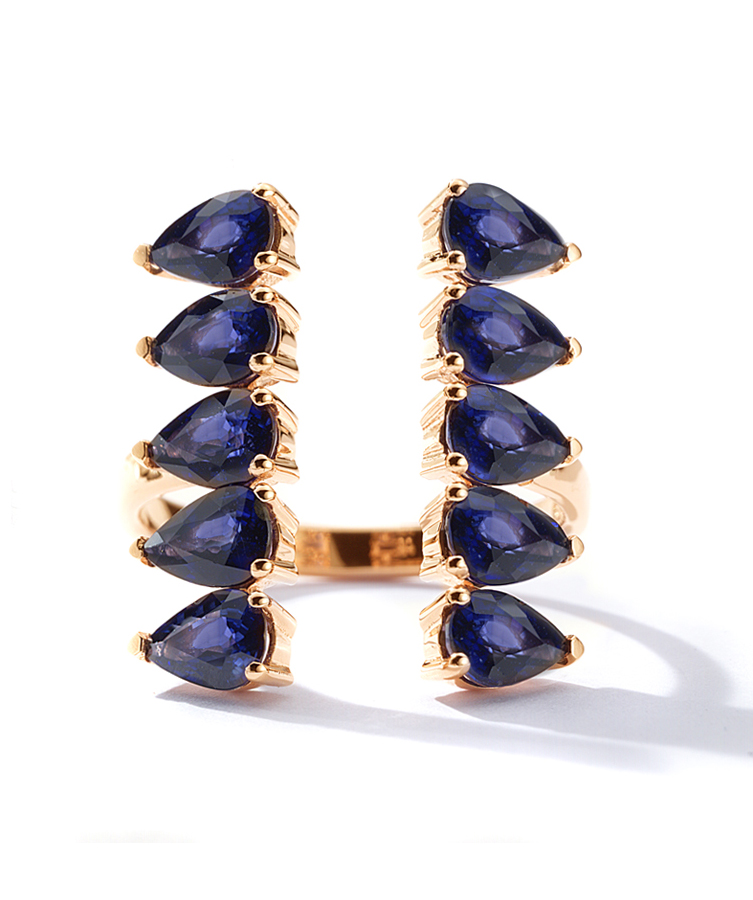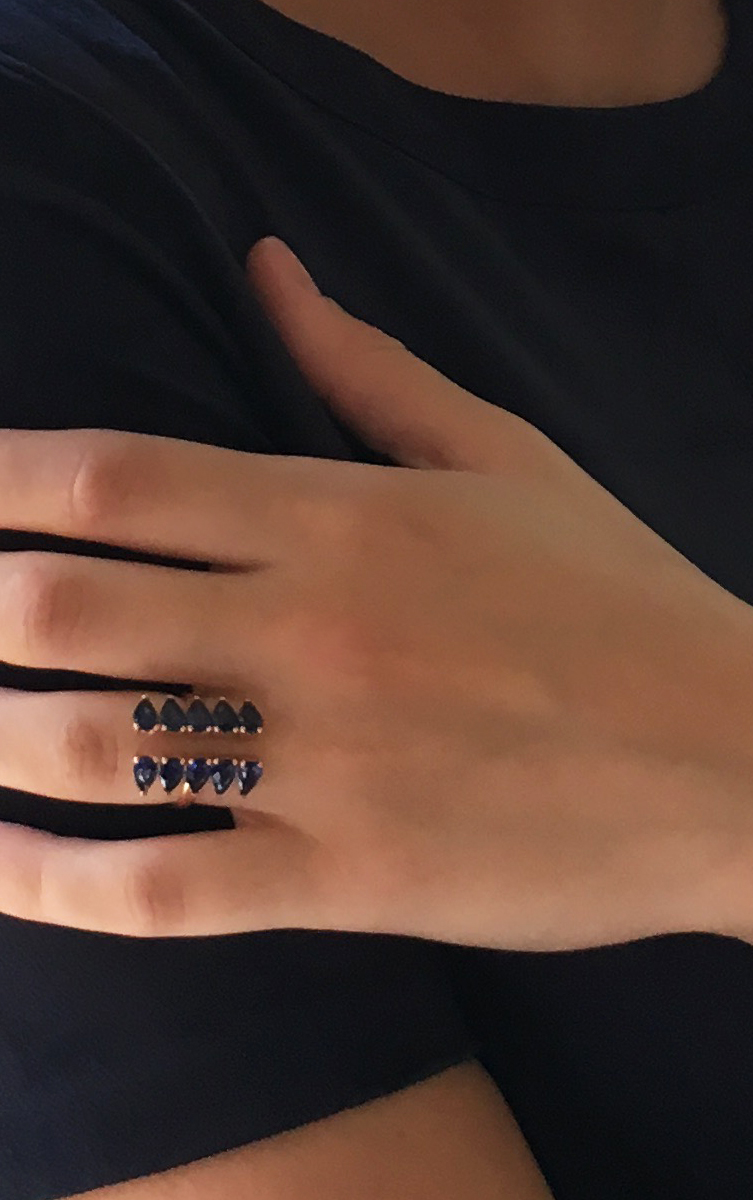 Ileana Makri Deco Pear Column Ring
Twin columns of pear shape iolite gems in rose gold define a space in the front of your finger. Try this ring on your pointer finger.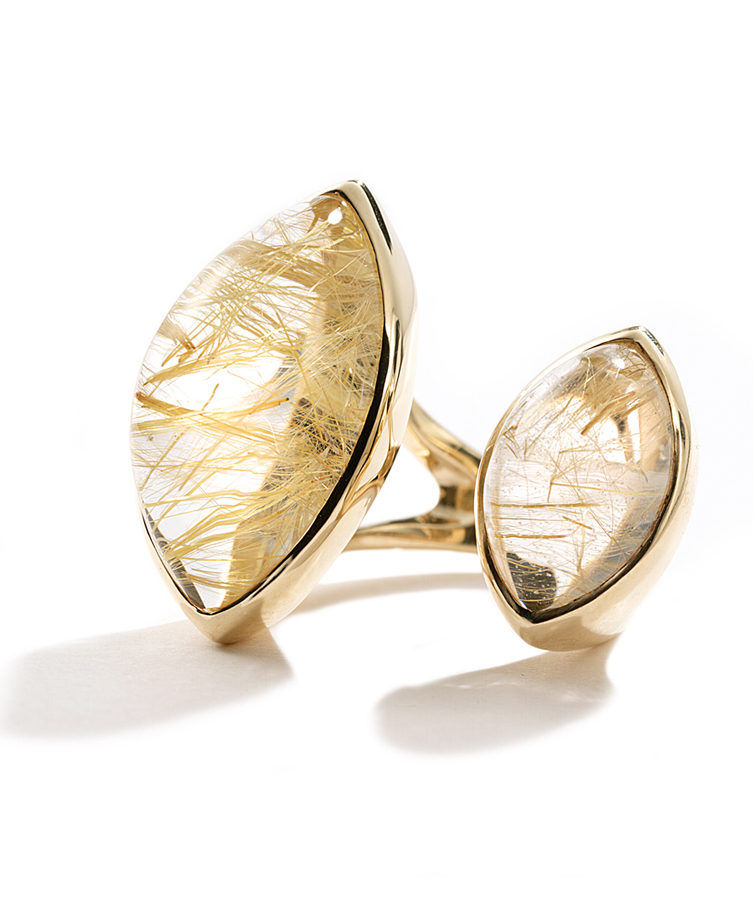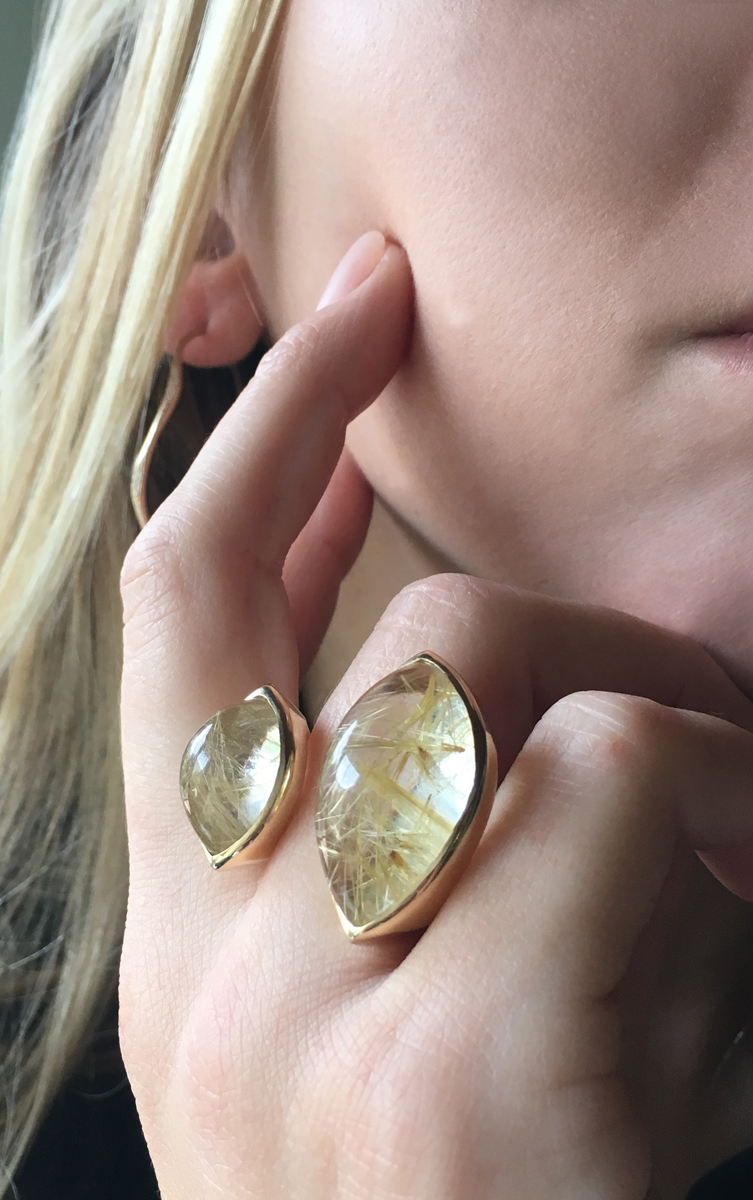 Nicole Landaw Agatha Ring
Nicole carved the shapes of these two gems to nestle comfortably between your fingers, making this ring surprisingly easy to wear. We think it is perfect alone on your right hand.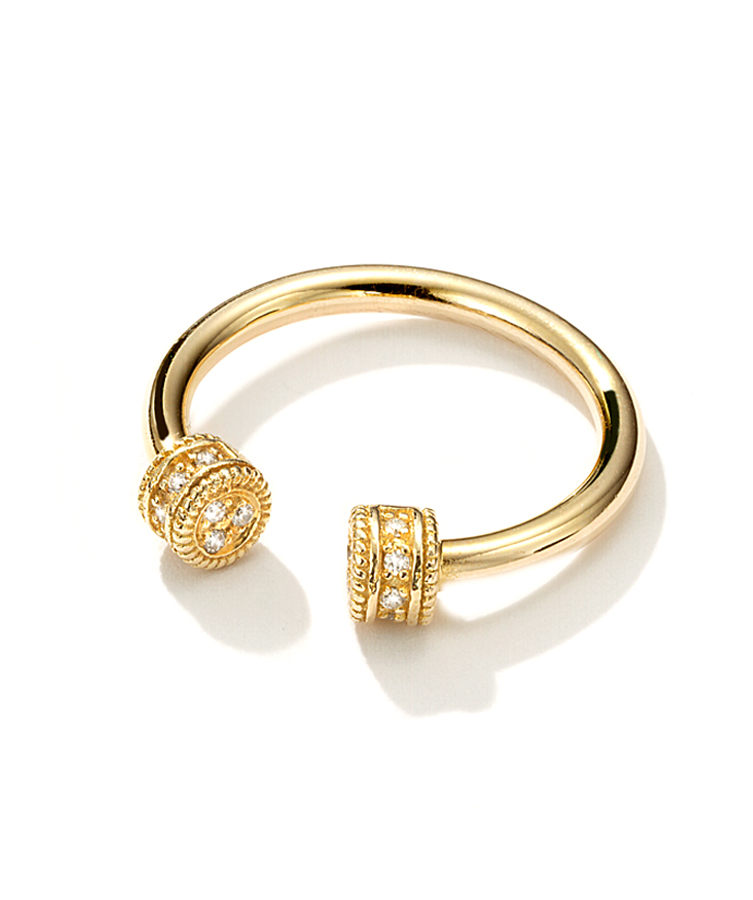 Lalaounis Hellenistic Cuff Ring
This lovely little ring echoes the shape of a classic Lalaounis cuff bracelet. Inspired by the iconic fluting and capitols of the columns on the Acropolis, the shape is classic but also quite fashionable.  Try this style stacked with a few bands and even a solitaire diamond.
Ear Innovation
August 5th, 2016 | by Cheryl Kremkow|Foundrae, Ileana Makri, Jane Taylor, Jewelry Trends, Judi Powers, Meredith Kahn
Not too long ago, your choice in earrings was between pairs of studs, drops or hoops. Today our favorite new designs go beyond these categories: they adorn the front and back of your piercing, they climb above your lobe or they cradle your whole ear. And single earrings and ear cuffs allow you to combine different styles in new and creative ways.
Here are our favorite innovative new designs that redefine "earring" in delightful ways.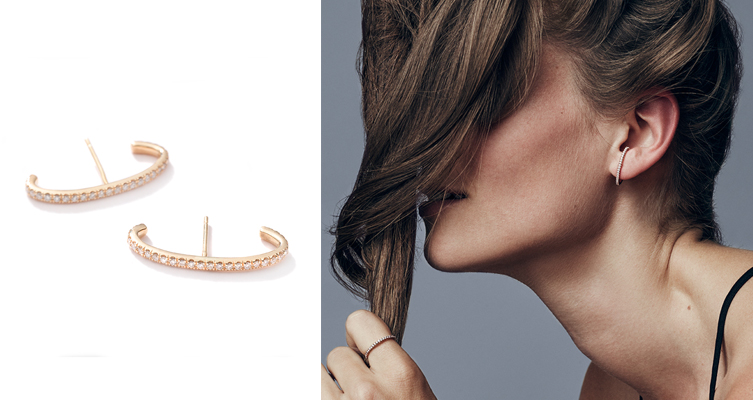 Meredith Kahn Diamond Line Ear Cuff
The clean lines and simple design of this earring are deceptive: this is a completely new earring shape. The curve surrounds your lobe like an ear cuff but the post holds it comfortably in place. Try it on memo and you'll see how gracefully it fits: a subtle innovation that makes it a streamlined new classic.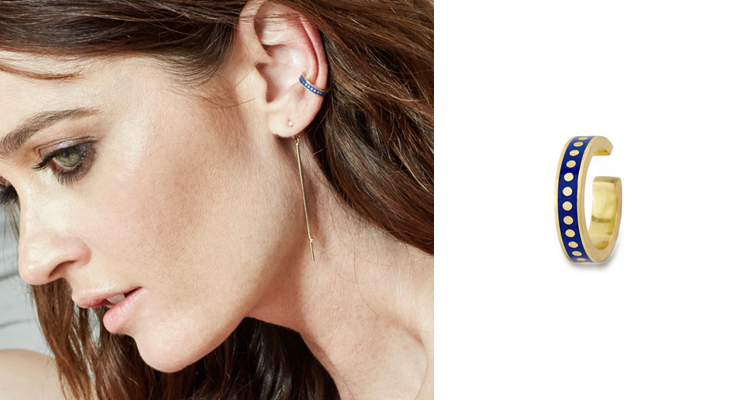 An ear cuff adds a edgy note to your ear game. We especially love combining a cuff with more traditional earrings: so many possibilities! Currently our favorite cuff is the Dot Banded Ear Cuff by Foundrae in blue enamel because of the lovely color of the blue enamel. And we also love the symbolism of the Karma collection. We need all the good karma we can get!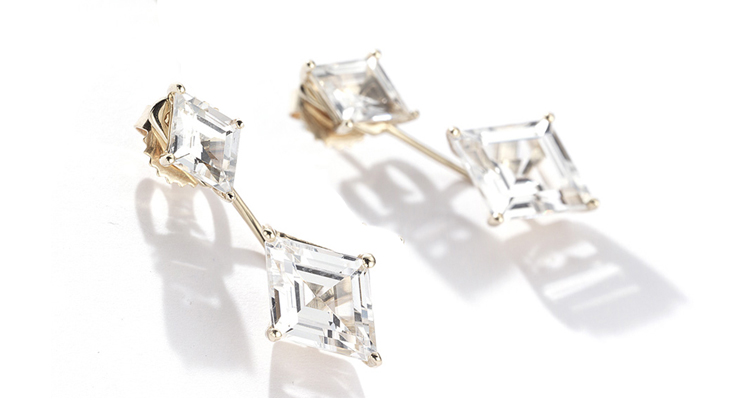 Jane Taylor Kite Studs and Jackets
We've never seen anything like this clever combination of a custom-cut kite-shaped gem stud and a jacket that fastens behind the ear so it floats gracefully behind your ear, defying gravity. Still, we're absolutely sure that this is an instant classic you'll wear for years. We love designs that are conservative enough for any office and still drop-dead cool. This is one. (And we're not alone: Katy Perry wore Jane Taylor studs and jackets onstage at the Democratic National Convention.)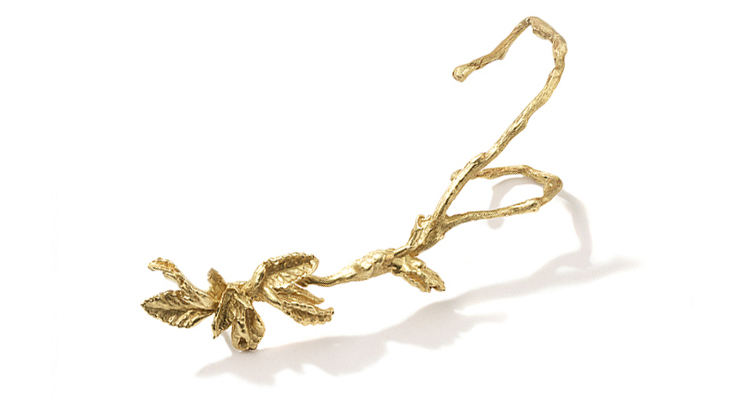 Judi Powers A Tree Grows in Brooklyn Ear Climber
We love the way this ear climber looks like it grew on your ear. With its hand-carved details in luxe 18k gold, it's refined enough to be couture jewelry.  But it's unusual enough to be a conversation piece too.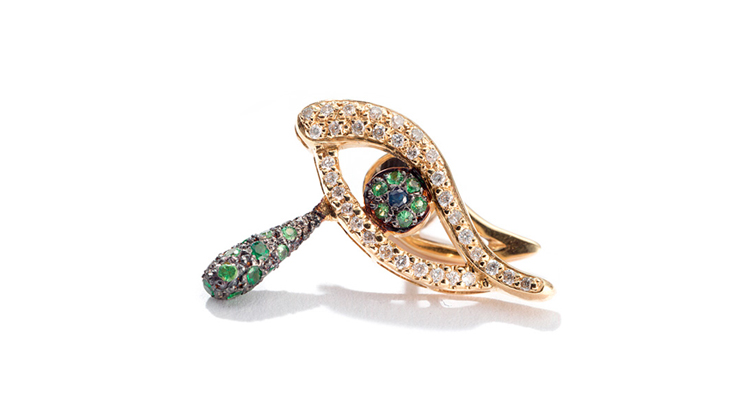 Ileana Makri Angry Eye Earring
This sublime single earring curves up your ear gracefully. Wear it with a single diamond stud or another symbol in your other ear. Everyone who sees it will want it, but don't worry, the evil eye symbol protects against envy!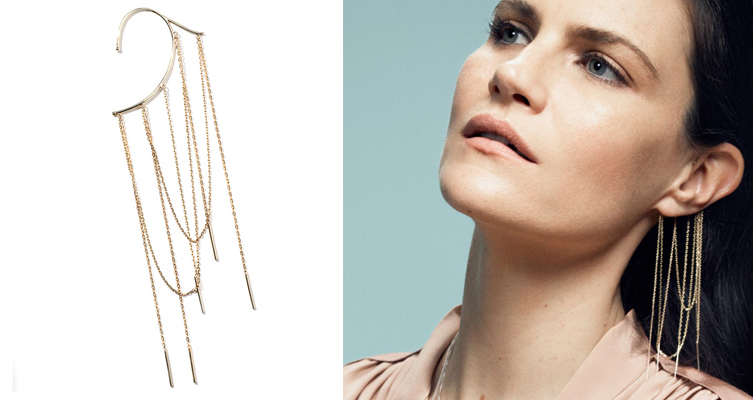 Foundrae Cashttps://www.experiencememo.com/product-details/cascade-ear-cuff/cade Ear Cuff
A waterfall of graceful chains falls from your whole ear in this dramatic style by Foundrae. Wear it alone or add it to your favorite pair of studs. We guarantee that people will stop you on the street to ask about it. It's that gorgeous.